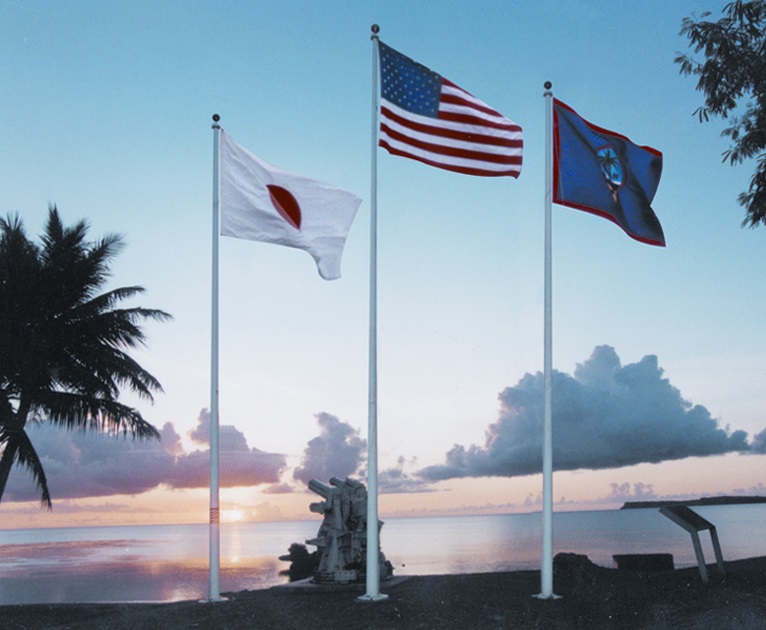 News Release Date:
September 29, 2015
Contact: Rufus Haspalur, 671-333-4050/4051
October 2015"Find Your Park"on Guam: Free Programs
Across the nation, the National Park Service is gearing up for its 100th birthday in August 2016. The War in the Pacific National Historical Park joins this campaign and encourages the public to"Find Your Park"on Guam.
Join our park rangers outdoors for a variety of fun and interesting interpretive programs.
Programs provide visitors an opportunity to learn about park resources, the people we honor, and how events of the past stillinfluence us today.
For specific program details, please see the attached schedule of events.
All events and park units are free and open to the public. Visitors can also hear from a park ranger with the park's cell phone audio tour, available 24 hours a day. Tour stops are located at ten points throughout the park. Dial 866-418-3963 to listen to the tour in English or Japanese.
For more information on specific programs, call 671-333-4050 or visit www.nps.gov/wapa for more details and a map of park units. To learn more about "Find Your Park", visit www.findyourpark.com.
–NPS –
October 2015 Programs
October 3, Saturday: 2 pm at Asan Bay Overlook - "Courage Through Faith"
The Chamorros' struggle during the Japanese occupation came to a head in the tragic tale of Father Duenas. Join a park ranger to learn his story through his own notes and diaries, find out how strong beliefs overcame the power of a brutal enemy force. (1 hour)
October 4, Saturday: 2 pm at Visitor Center - "Map Talk"
Stop by the visitor center and learn about America's island hopping strategy to defeat Japan with our unique, magnetic, write-on, Guam-centered world map. (30 minutes)
October 10, Saturday: 10 am at Visitor Center - "History Revealed"
Join us for a presentation on the daring adventures of U.S. Navy Submarine Patrols to the waters of Mariana Islands during World War II resulting in the sinking of 37 Japanese warships. Presented by Dave Lotz, the park's historian and cultural resources program manager.(1 hour)
October 10, Saturday: 9am –Noon at Asan Beach –"Keep Guam Beautiful" 
Join park rangers the second week of every month to help keep Guam beautiful. This cleanup effort will take place at the former WWII invasion beach. For more information please contact:megan_mcalonis_nps.gov.
October 11, Sunday: 2 pm at Piti Guns - "Gun Walk"
Meet at the Veterans Cemetery on Route 6 and we'll caravan to the short hiking trail that leads to three large coastal defense guns in Piti. Although these are the only guns in their original positions protected by the park, we'll discover another reason why they are particularly unique. Please wear sturdy shoes and bring water. (45 min)
October 17, Saturday: 2 pm at Asan Bay Overlook - "Prisoners"
By October 1941, all military dependents on Guam had been evacuated, except for one. Hear the story of a young mother and five navy nurses who banded together when war came to Guam. (30 minutes)
October 18, Sunday: 2 pm at Ga'an Point - "Southern Beach"
Join a park ranger in Agat, where a calm and serene beach represents how easily we forget what took place in 1944. Left behind are the silent guns to remind us of the clash of forces that occurred here. (30 minutes)
October 24, Saturday: 2 pm at Ga'an Point - "Hidden Treasures of George Tweed"
When the famous Navy man fled to the jungle in 1941, hiding for nearly 3 years during Guam's Japanese occupation, he couldn't imagine what he'd need to survive. While the tools he used ranged from primitive to modern, his greatest assets were his friends.(30 minutes)
October 25, Sunday: 2 pm at Visitor Center - "Science Sunday"
Studies also show that ancient Chamorros brought with them to Guam about 30 plants aboard their voyaging canoes.Ranger Robert Bevacqua will explain the traditional uses of these plants, such as coconut (niyok), breadfruit, (lemai), banana (chotda), and taro (suni).He will also demonstrate the tools that were developed to utilize these traditional Chamorro plants. (1 hour)
October 31, Saturday: 2 pm at Asan Beach - "Invasive Species of Guam"
Guam is not the same island it was 70 years ago –or even 10 years ago. Join a park ranger to learn about invasive species of Guam and the damage they cause to the environment. Meet at the restrooms. Please wear sturdy shoes and bring water! (1 hour)