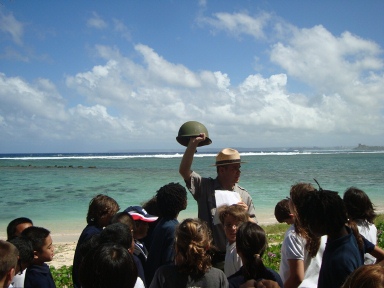 News Release Date:
September 7, 2012
Contact: Dan Brown, 671-333-4051
Join park rangers this month for a variety of fun and interesting interpretive programs. Park rangers will lead special guided tours of park sites and share personal stories of those who fought in the Pacific War. Programs provide visitors an opportunity to learn about park resources, the people we honor, and how events of the past still influence us today. In addition, park officials invite the public to join hundreds of volunteers participating in the annual International Coastal Cleanup (September 15) and National Public Lands Day (September 29). For specific program details, please see the attached schedule of events.
All events are free and open to the public.Most programs occur outdoors at different locations and vary in length from thirty minutes to one hour. Most hikes are moderate and short but traverse slippery and steep terrain, so wear appropriate footwear and attire.Visitors are encouraged to bring water, umbrellas, and insect repellant.In the event of inclement weather, programs may be delayed or cancelled.For more information or questions on specific programs, call 671-333-4050.
- NPS -
SCHEDULE OF EVENTS FOR THE MONTH OF SEPTEMBER 2012
Every day in September - The T. Stell Newman Visitor Center hosts spectacular new exhibits that feature gripping stories and information about Guam's history, the Pacific Theater of World War II, and the beautiful natural resources of our island. Visitors can also watch a 10-minute movie in our theater and shop in the outstanding bookstore operated by Pacific Historic Parks, our non-profit partner that supports the park. The visitor center is open from 9 am - 4:30 pm daily and is located just outside Naval Base Guam main gate.
Saturday, September 1 - 2 p.m. at Asan Bay Overlook - "Soldier's Story" - Hear the story of one of Guam's sons, his World War II experience, and his harrowing return during the Battle of Guam. Did he really find what he was looking for? (30 minutes)
Saturday, September 8 - 2 p.m. at Piti Guns - "Guns Hike" -Meet at the Veterans Cemetery on Route 6 and we'll caravan to the short hiking trail that leads to 3 large coastal defense guns. Although these are the only guns in their original positions protected by the park, we'll discover another reason why they are particularly unique. (45 minutes)
Saturday, September 15
-7 a.m. at Asan Beach - "International Coastal Cleanup" - Bring your family and friends to be a part of this special day we hold each year to help keep our island beautiful. Hundreds of thousands of volunteers are working on this day around the planet - here's your chance to do something right here on Guam. Free t-shirts will be distributed while supplies last. The event is expected to last no later than 10 a.m.
-2 p.m. at Asan Bay Overlook - "Guam Ever After" - Guam's role in World War II didn't stop with its liberation. The years immediately following the war changed Guam forever. If you don't know how, you might be surprised to find out! (30 minutes)
Saturday, September 22 - 2 p.m. at Ga'an Point - "Ranger's Choice"-What's so special about the Agat beach line? More than you think! Come and find out from a park ranger. (30 minutes)
Saturday, September 29 - 9 a.m. at Asan Beach - National Public Lands Day - Across the nation volunteers will come together on National Public Lands Day (NPLD) to help care for our public lands.For over ten years, War in the Pacific National Historical Park has partnered with the Guam Girl Scouts to help care for our national park on Guam. Join park rangers and other volunteers at Asan Beach from 9 a.m. to 12 p.m. for NPLD. Look for the green tent!
- NPS -