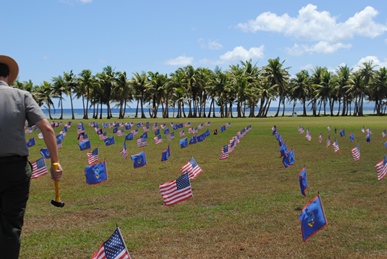 News Release Date:
May 13, 2013 Join park rangers this month for a variety of fun and interesting interpretive programs. Park rangers will lead special guided tours of park sites and share personal stories of those who fought in the Pacific War. Programs provide visitors an opportunity to learn about park resources, the people we honor, and how events of the past still influence us today. For specific program details, please see the attached schedule of events. All events are free and open to the public.
Most programs occur outdoors at different locations and vary in length from thirty minutes to one hour. Most hikes are moderate and short but traverse slippery and steep terrain, so wear appropriate footwear and attire. Visitors are encouraged to bring water, umbrellas, and insect repellant. In the event of inclement weather, programs may be delayed or cancelled. For more information or questions on specific programs, call 333-4050.
Throughout May - The T. Stell Newman Visitor Center hosts spectacular exhibits and movies about Guam's history and natural resources and an outstanding bookstore operated by Pacific Historic Parks, our supporting non-profit partner. The visitor center is open from 9 am - 4:30 pm daily and is located just outside Naval Base Guam main gate.

May 11, Saturday: 2 pm at Ga'an Point - "Agat Amtrac" - Find out how an offshore wreck shows the surprising, unintended destinies of the Marines and their machines during the 1944 Battle of Guam. (30 minutes)
May 12, Sunday: 2 pm at the Visitor Center - "Map Talk" - Stop by the visitor center and learn about America's island hopping strategy to defeat Japan. (20 minutes)
May 18, Saturday: 2 pm at Fonte Plateau - "Death Before Dishonor" - Ever wonder about those big, strange cave doors on Nimitz Hill? Discover the Japanese Command Post bunker and the true, haunting story of its last inhabitants. (30 minutes)

May 19, Sunday: 2 pm at Asan Bay Overlook - "Ships of War" - Listen to the stories of the ships that fought in World War II and in the Battle for Guam. (30 minutes)
May 24, at Asan Beach - Volunteer Event - Here's your chance to make a positive investment in this year's Memorial Day. Our annual display recognizes the thousands of Americans and Chamorros killed on Guam during World War II. Join us as a volunteer and help lay out our flags of remembrance. To get involved, call 333-4050.
Memorial Day Weekend - View the inspiring flag display at Asan Beach. Honor the bravery of our armed forces, past and present. Reflect on those who have made the ultimate sacrifice for the cause of democracy and freedom.
May 26, Sunday: 2 pm at Asan Beach - "This Flag is For…" - A park ranger will be available to discuss the symbolism of the flags at Asan Beach and the stories of some of the people who lost their lives on Guam during World War II. (2 hours)