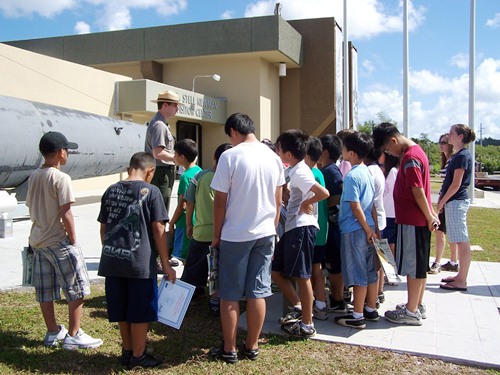 News Release Date:
February 21, 2013
Contact: Benjamin Hayes, 671-333-4051
Join park rangers in March for a variety of fun and interesting interpretive programs. Park rangers will lead special guided tours of park sites and share personal stories of those who fought in the Pacific War. Programs provide visitors an opportunity to learn about park resources, the people we honor, and how events of the past still influence us today. For specific program details, please see the attached schedule of events.
All events are free and open to the public. Most programs occur outdoors at different locations and vary in length from thirty minutes to one hour. Most hikes are moderate and short but traverse slippery and steep terrain, so wear appropriate footwear and attire. Visitors are encouraged to bring water, umbrellas, and insect repellant. In the event of inclement weather, programs may be delayed or cancelled. For more information or questions on specific programs, call 333-4050.
SCHEDULE OF EVENTS FOR THE MONTH OF MARCH 2013
Throughout March

 

- The T. Stell Newman Visitor Center hosts spectacular exhibits and movies about Guam's history and natural resources and an outstanding bookstore operated by Pacific Historic Parks, our supporting non-profit partner. The visitor center is open from 9 am - 4:30 pm daily and is located just outside Naval Base Guam main gate.
March 2, Saturday:

 

1 pm at the Visitor Center - "Curator's Corner"

 

-

 

Join our park curator for a discussion of the world at war in March 1943. Through an up-close look at museum artifacts, you'll learn more about the battles of the Bismarck Sea, Bougainville, and Komandorski Islands.  We will also examine the revolutionary role women played in the Pacific Theater and the home front. (2 hours)
March 3, Sunday:

 

2 pm at Asan Beach - "The Land Remains" -

 
Meet at the restrooms and explore the history of Asan Ridge through a fun hike. (45 minutes)
March 9, Saturday: 2 pm at Piti Guns - "Guns Hike" -

 
Meet at the Veterans Cemetery on Route 6 and we'll caravan to the hiking trail that leads to three large Japanese coastal defense guns. (45 minutes)
March 10, Sunday: 2 pm at the Visitor Center -

 

"Calm Before the Storm" -
Stop by the visitor center for a special screening of rare color movies of pre-war Guam.  Learn about the Chamorro people who gave the ultimate sacrifice defending Guam from the Japanese attack and invasion in December 1941. (30 minutes)
March 16, Saturday:

 

2 pm at Asan Bay Overlook - "Guam Ever After" -

 

Guam's role in World War II didn't stop with its Liberation. The years immediately following the war changed Guam forever. If you didn't know, you might be surprised to find out! (30 minutes)
March 17, Sunday:

 

2 pm at Asan Beach - "A Sailor's Story" -

 
Hear the story of one of Guam's sons, his World War II experience, and his harrowing return during the Battle of Guam. Did he really find what he was looking for? (30 minutes)
March 23, Saturday:

 

11 am and 2 pm at the Visitor Center - "Hagåtña Movie"
 

-

 

Have you ever explored the history of Hagåtña? Join us for a special film "Hagåtña Historic District" and learn about the special people and places that make Guam's capital nationally significant as well as some plans for the future. (30 minutes)
March 24, Sunday: 11 am and 2 pm at the Visitor Center -

 

"Traditional Fishing" -

 
Watch a special movie presentation "Traditional Fishing on Guam," and take a glimpse into the post-war twentieth century traditional fishing practices of Guam. (30 minutes)
March 30, Saturday:

 

10 am at Asan Bay Overlook - "Courage Through Faith"
 

-

 

The Chamorros' struggle during the Japanese occupation came to a head in the tragic story of Father Jesus Baza Duenas. Find out how strong beliefs overcame the power of a brutal enemy force. (30 minutes)
March 31, Sunday: 2 pm at Asan Beach -

"Silver Star for a Farmer" -
Patriotism ran high among Chamorros during the Japanese Occupation. Discover how a humble farmer bravely assisted U.S. forces during the recapture of Guam. (30 minutes)