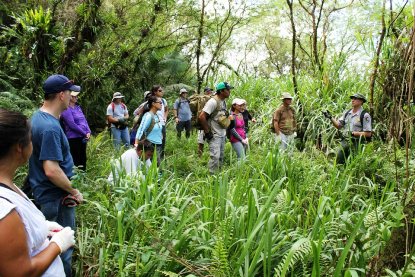 News Release Date:
March 2, 2012
Contact: Ben Hayes, 671-333-4050
Join park rangers this month for a variety of fun and interesting interpretive programs. Park rangers will lead special guided tours of park sites and share personal stories of those who fought in the Pacific War. Programs provide visitors an opportunity to learn about park resources, the people we honor, and how events of the past still influence us today.

All events are free and open to the public. Most programs occur outdoors at different locations and vary in length from thirty minutes to two hours. Most hikes are moderate and short but traverse slippery and steep terrain, so wear appropriate footwear and attire. Visitors are encouraged to bring water, umbrellas, and insect repellant. In the event of inclement weather, programs may be delayed or canceled. For more information specific programs, call 333-4050.

Visitor Center Update -
Renovations continue in preparation for new museum exhibits and parts of the visitor center will be closed during the first half of the month. However, the bookstore will be open throughout March and park rangers are available to offer information at the front desk. The T. Stell Newman Visitor Center is located in Sumay in front of the Naval Station main gate and open daily 9 a.m. to 4:30 p.m. Don't miss "Between Fences," a Smithsonian Museum traveling exhibit sponsored by the Guam Humanities Council set to open at the end of March. To learn more, visit http://www.museumonmainstreet.org/exhibs_fences/fences.htm.
Saturday, March 3 - 2 p.m. at Ga'an Point - "Ships of War" -
Listen to the stories of the ships that fought in World War II and in the Battle for Guam. (30 minutes)
Sunday, March 4 - 2 p.m. at Asan Beach - "Prisoners" -
By October 1941, all military dependents on Guam had been evacuated, except for one. Hear the story and challenges of a young mother, and five navy nurses who helped each other when war came to Guam. (30 minutes)
Saturday, March 10 - 2 p.m. at Asan Beach - "A Sailor's Story" -
Join us for a look at pre-war Guam and learn how one young man became caught up in the tragedy of war. (30 minutes)
Sunday, March 11 - 2 p.m. at Asan Bay Overlook - "Courage Through Faith" -
The plight of the Chamorros during the Japanese occupation came to a head in the tragic story of Father Jesus Baza Duenas. Find out how strong beliefs overcame the power of a brutal enemy force. (30 minutes)
Saturday, March 17 - 6:30 p.m. at Asan Beach - "Movie in the Park" -
Join us for a special Chamorro Month program featuring the 2011 Guam History Day award winning films followed by the PBS Guam documentary, "Portrait of Guam: Myths & Legends." This documentary explores some of Guam's most interesting myths and what they tell us about the past. (One and a half hours)
Sunday, March 18 - 2 p.m. at Asan Beach - "The Land Remains" -
Meet at the restrooms and explore the history of Asan Ridge through a fun hike. (45 minutes)
Saturday, March 24 - 1 p.m. at the Visitor Center - "Curator's Corner" -
This month marks the 67th anniversary of Iwo Jima, one of the bloodiest struggles of World War II. Join the park museum curator for a presentation on the Battle for Iwo Jima. Visitors will learn about key points of the battle and how Guam played a central role in the lead-up to the invasion. The curator will also show related artifacts from the park's collection. (Two hours)
Sunday, March 25 - 2 p.m. at Ga'an Point -"Guam Ever After" -
Guam's role in World War II didn't stop with its Liberation. The years immediately following the war changed Guam forever. If you don't know how, you might be surprised to find out! (30 minutes)
Saturday, March 31 - 2 p.m. at Piti Guns - "Guns Hike" -
Meet at the Veterans Cemetery on Route 6 and we'll caravan to the hiking trail that leads to three Japanese coastal defense guns above Piti. (45 minutes)
Sunday, April 1 - 2 p.m. at Apaca Point -"Death Before Dishonor" -
Discover the unique coastal defense bunkers at Apaca Point and learn about the Japanese struggle to defend Guam. (30 minutes)