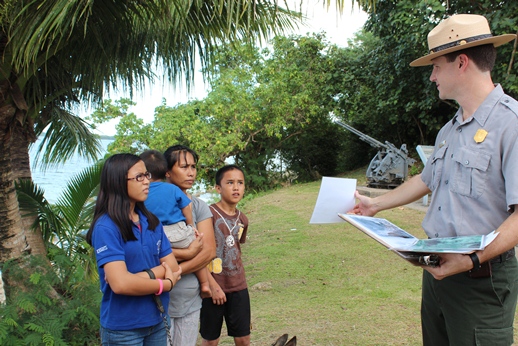 News Release Date:
May 29, 2013
Contact: Daniel Brown, 671-333-4051
Join park rangers this month for a variety of fun and interesting interpretive programs. Park rangers will lead special guided tours of park sites and share personal stories of those who fought in the Pacific War. Programs provide visitors an opportunity to learn about park resources, the people we honor, and how events of the past still influence us today. For specific program details, please see the attached schedule of events.
All events are free and open to the public.  Most programs occur outdoors at different locations and vary in length from thirty minutes to one hour. Most hikes are moderate and short but traverse slippery and steep terrain, so wear appropriate footwear and attire.  Visitors are encouraged to bring water, umbrellas, and insect repellant.  In the event of inclement weather, programs may be delayed or cancelled.  For more information or questions on specific programs, call 333-4050.
Throughout June:
The T. Stell Newman Visitor Center hosts spectacular exhibits and movies about the history and natural resources of Guam and an outstanding bookstore operated by Pacific Historic Parks, our supporting non-profit partner. The visitor center is open every day from
9 am - 4:30 pm
and is located just outside Naval Base Guam main gate. 
June 1

,

Saturday: 2 pm

at Asan Beach - "Sailor's Story" -
Join us for a look at tranquil, pre-war Guam and the story of how one young man became caught up in a tragedy he never could have expected. (30 minutes)
June 2

,

Sunday: 2 pm

at Asan Bay Overlook - "Sailor's Story" -
Hear the story of one of Guam's sons, his World War II experience, and his harrowing return during the Battle of Guam. Did he really find what he was looking for? (30 minutes)
June 8

,

Saturday: 2 pm

at Asan Bay Overlook - "Guam Ever After" -
Guam's role in World War II didn't stop with its Liberation. The years immediately following the war changed Guam forever. If you don't know how, you might be surprised to find out! (30 minutes)
June 9

,

Sunday: 2 pm

at Asan Bay Overlook - "Why did they fight here?" -
 Learn about "Operation Forager," one of the most enormous and complex amphibious campaigns of the Pacific War.  Find out why losing the Mariana Islands sealed Japan's defeat. (30 minutes) 
June 15

,

Saturday: 2 pm

at Asan Bay Overlook - "Courage Through Faith" -
The Chamorros' struggle during the Japanese occupation came to a head in the tragic story of Father Duenas. How did strong beliefs overcome the power of a brutal enemy force? (30 minutes)
June 16

,

Sunday: 2 pm

at Piti Guns - "Guns Hike" -
Meet at the Veterans Cemetery on Route 6 and we'll caravan to the short hiking trail that leads to 3 large coastal defense guns. (45 minutes)
June 22

,

Saturday: 2 pm

at Asan Beach - "The Land Remains" -
Meet at the restrooms and explore the history of Asan Ridge through a fun hike. (45 minutes)
June 23

,

Sunday: 11 am and 2 pm

at the Visitor Center - "Calm Before the Storm" -
View a special screening of rare color movies of pre-war Guam.  Learn about those who gave the ultimate sacrifice defending Guam in December 1941. (30 minutes)
June 29

,

Saturday: 2 pm

at Ga'an Point - "Death Before Dishonor" -
Learn about Japan's strategy and methods to defend Guam from American attack in 1944. (30 minutes)
June 30

,

Sunday: 11 am and 2 pm

at the Visitor Center - "Don't Let Go" -
Watch the film "Traditional Fishing on Guam," and take a glimpse into post-war twentieth century traditional fishing practices. (30 minutes)