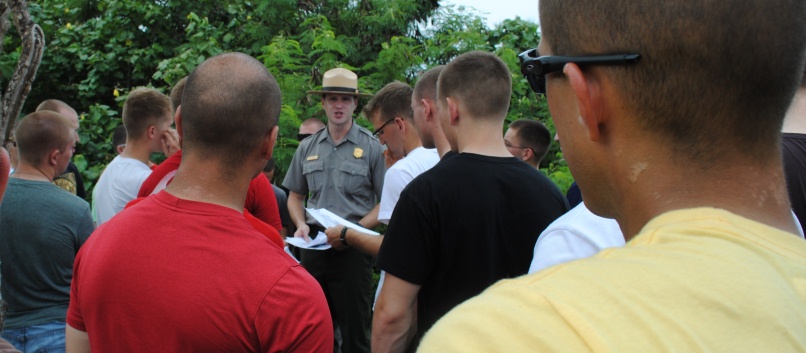 News Release Date:
July 1, 2014
Contact: Dan Brown, 671-333-4051
Join park rangers this month for a variety of fun and interesting interpretive programs. Park rangers will lead special guided tours of park sites and share personal stories of those who fought in the Pacific War. Programs provide visitors an opportunity to learn about park resources, the people we honor, and how events of the past still influence us today. For specific program details, please see the attached schedule of events.
All events are free and open to the public. Most programs occur outdoors at different locations and vary in length from thirty minutes to one hour. Most hikes are moderate and short but traverse slippery and steep terrain, so wear appropriate footwear and attire. Visitors are encouraged to bring water, umbrellas, and insect repellant. In the event of inclement weather, programs may be delayed or cancelled. For more information or questions on specific programs, call 333-4050. Guns Hike                                                 Saturdays, 2 pm, except July 19
Meet at the Veterans Cemetery on Route 6 and we'll caravan to the short hiking trail that leads to three large coastal defense guns. Although these are the only guns in their original positions protected by the park, we'll discover another reason why they are particularly unique. Free; 1 hour.
Sailor's Story                                            Sundays, 2 pm, except July 20
Join a park ranger near the Asan Beach restrooms to hear the story of one of Guam's sons, his World War II experience, and his harrowing return during the Battle of Guam. Did he really find what he was looking for? Free; 30 minutes.
Additional Special Events
Fireside Chat                                                      Saturday, July 19 at 6 pm
On the eve of the 70th Anniversary of the Liberation of Guam, gather 'round the campfire with those who were there. Liberators and local survivors return for this special evening to share stories and remember. Meet at Asan Beach. Free; 3 hours.
Science Sunday                                                    Sunday, July 20 at 2 pm
Coral spawning is expected to begin on July 19. Join Dr. James Guest of the SECORE Foundation to learn about SECORE (SExual COral REproduction), current research on Guam, and his own similar work in Singapore. Meet at the visitor center. Free; 1 hour.