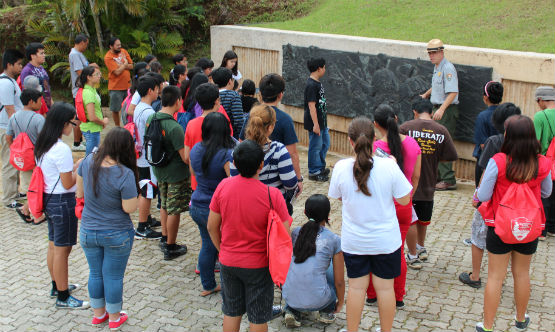 News Release Date:
January 7, 2015
Contact: Dan Brown, 671-333-4051
Join park rangers this month for a variety of fun and interesting interpretive programs. Park rangers will lead special guided tours of park sites, share personal stories of those who fought in the Pacific War, and offer a film about national parks across the country. 
Programs provide visitors an opportunity to learn about park resources, the people we honor, and how events of the past still influence us today. For specific program details, please see the attached schedule of events.
All events are free and open to the public. Visitors are encouraged to bring water, umbrellas, and insect repellant. In the event of inclement weather, programs may be delayed or cancelled.
Visitors can also hear from a park ranger with the park's cell phone audio tour, available 24 hours a day.Tour stops are located at ten points throughout the park. Dial 866-418-3963 to listen to the tour in English or Japanese.
Marine's Story                                          Saturdays, 2 pm, except January 10
Hear the story of one of Guam's sons, his World War II experience, and his harrowing return during the Battle of Guam. Did he really find what he was looking for? Meet at the Asan Bay Overlook, and afterward view the new, granite panels the park recently replaced. Free;30 minutes
Agat Amtrac                                                  Sundays, 2 pm, except January 18
Join a park ranger in Agat for an exploration of Ga'an Point, where some Liberators didn't even make it to shore during the 1944 Battle of Guam. Find out how an offshore wreck shows the surprising, unintended destinies of these Marines and their machines. Free;30 minutes
Additional Special Events at the T. Stell Newman Visitor Center
Movie at the Museum                         Saturday, January 10, at1 pm
War in the Pacific is only one of your 401 national parks! Experience the grandeur of others with selections of the Ken Burns film,The National Parks: America's Best Idea, which dramatically portrays how America's most treasured places were saved for all to enjoy. Free;1 hour
Science Sunday                                         Sunday, January 18, at 2 pm
This series of programs features guest speakers who help make the science all around us applicable and fun. Learn more about Guam's amazing environments through this month's program. For more information, contact park rangers at 333-4051. Free;1 hour 
                                                              NPS