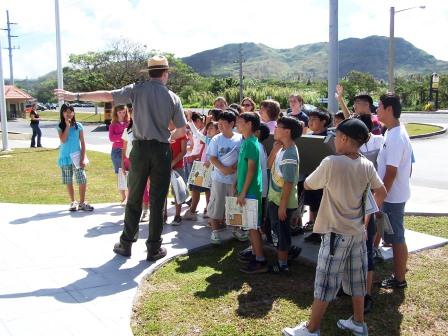 News Release Date:
December 21, 2012
Contact: Benjamin Hayes, 671-333-4051
Join park rangers in January for a variety of fun and interesting interpretive programs. Park rangers will lead special guided tours of park sites and share personal stories of those who fought in the Pacific War. Programs provide visitors an opportunity to learn about park resources, the people we honor, and how events of the past still influence us today. For specific program details, please see the attached schedule of events.
All events are free and open to the public. Most programs occur outdoors at different locations and vary in length from thirty minutes to one hour. Most hikes are moderate and short but traverse slippery and steep terrain, so wear appropriate footwear and attire. Visitors are encouraged to bring water, umbrellas, and insect repellant. In the event of inclement weather, programs may be delayed or cancelled. For more information or questions on specific programs, call 333-4050.
SCHEDULE OF EVENTS FOR THE MONTH OF JANUARY 2013
Throughout January - The T. Stell Newman Visitor Center hosts spectacular exhibits that feature gripping stories and information about Guam's history, the Pacific Theater of World War II, and the beautiful natural resources of our island. Visitors can also watch a 10-minute movie in our theater and shop in the outstanding bookstore operated by Pacific Historic Parks, our non-profit partner that supports the park. The visitor center is open from 9 am - 4:30 pm daily and is located just outside Naval Base Guam main gate.
January 1, Tuesday: Park Closed. The visitor center and all park facilities will be closed in observance of New Year's Day.
January 5, Saturday: 2 pm at Piti Guns: -"Guns Hike" - Meet at the Veterans Cemetery on Route 6 and we'll caravan to the hiking trail that leads to three large Japanese coastal defense guns. (45 minutes)
January 6, Sunday: 2 pm at the Visitor Center - "Calm Before the Storm" - Stop by the visitor center for a special screening of rare color movies of pre-war Guam. Learn about the Chamorro people who gave the ultimate sacrifice defending Guam from the Japanese attack and invasion in December 1941. (30 minutes)
January 12, Saturday: 1 pm at the Visitor Center - "Curator's Corner" - Join our park curator for a discussion of the world at war in January 1943. Through an up-close look at museum artifacts, you'll learn a little bit more about how compasses, maps, and other "wayfinding" tools were used in the Pacific Theater. (2 hours)
January 13, Sunday: 2 pm at Fonte Plateau - "Death Before Dishonor" - Ever wonder about those big, strange cave doors on Nimitz Hill? Discover the Japanese Command Post bunker and discover the real-life, haunting story of its last inhabitants. (30 minutes)
January 19, Saturday: 2 pm at Asan Beach - "A Marine's Story" - Join us for a short walk and learn about the story of a Marine that left his name behind. (30 minutes)
January 20, Sunday: 2 pm at the Visitor Center - "Map Talk" - Stop by the visitor center and learn about Japan's strategy to conquer East Asia and the Pacific. (20 minutes)
January 26, Saturday: 2 pm at Ga'an Point - "Bare Hands" - Learn about Japan's strategy and methods to defend Guam from American attack. (30 minutes)
January 27, Sunday: 2 pm at Asan Bay Overlook - "Prisoners" -By October 1941, all military dependents on the island had been evacuated, except for one. Hear the story and challenges of a young mother, and five navy nurses who helped each other when war came to Guam. (30 minutes)