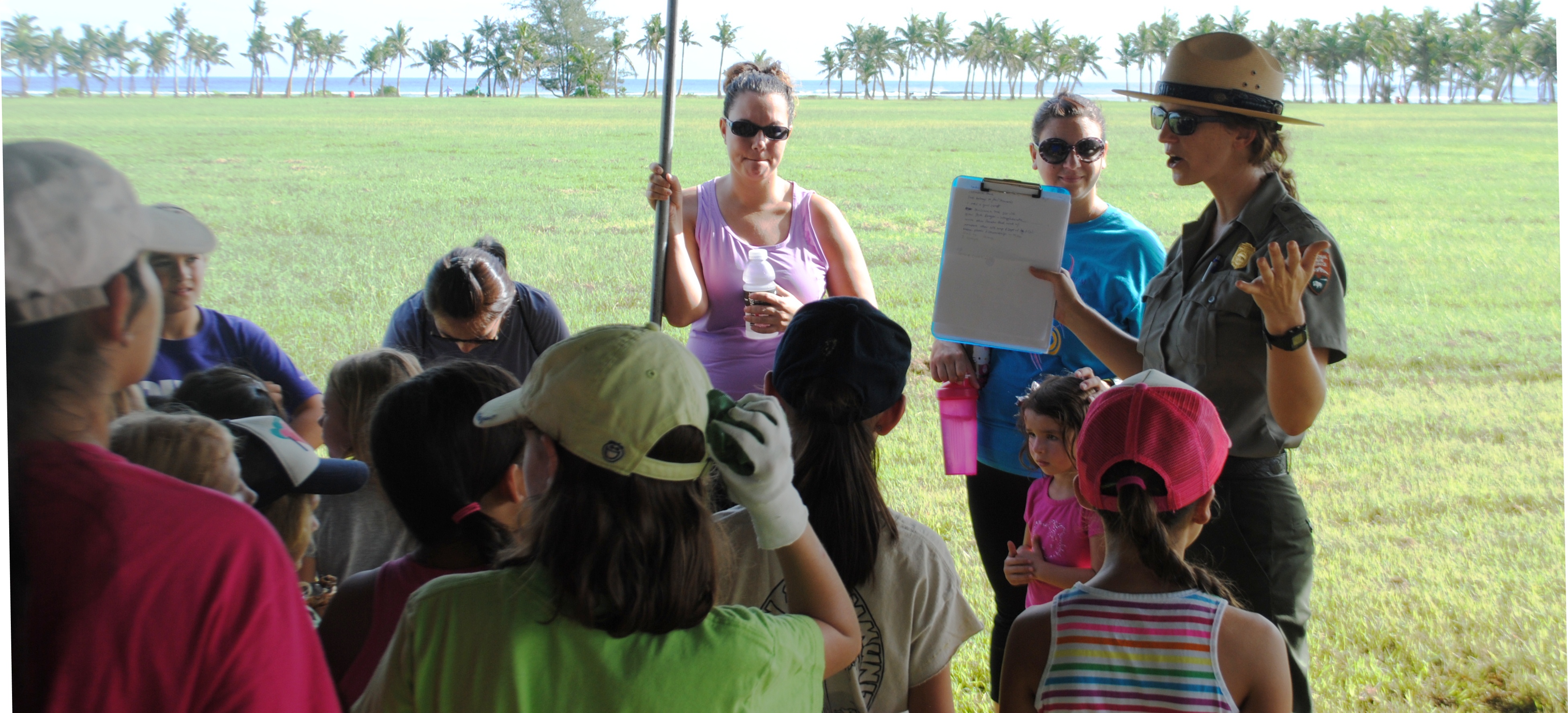 News Release Date:
January 30, 2015
Contact: Dan Brown, 671-333-4051
Join park rangers this month for a variety of fun and interesting interpretive programs. Park rangers will lead special guided tours of park sites, share personal stories of those who fought in the Pacific War, and offer a film about our natural resources. Programs provide visitors an opportunity to learn about park resources, the people we honor, and how events of the past still influence us today. For specific program details, please see the attached schedule of events.
All events are free and open to the public. Most hikes are moderate and short but traverse slippery and steep terrain, so wear appropriate footwear and attire. Visitors are encouraged to bring water, umbrellas, and insect repellant. In the event of inclement weather, programs may be delayed or cancelled.
Visitors can also hear from a park ranger with the park's cell phone audio tour, available 24 hours a day.Tour stops are located at ten points throughout the park. Dial 866-418-3963 to listen to the tour in English or Japanese.
For questions on specific programs, call 333-4050 or visit www.nps.gov/wapa for more information and a map of park units.
Bare Hands                                                 Saturdays,2 pm, exceptFebruary 14
Ever wonder about those big, strange cave doors on Nimitz Hill? Join a park ranger at the Fonte Plateau Unit to discover the Japanese Command Post bunker and the true, haunting story of its last inhabitants. Free; 30 minutes
Ridge Hike                                                  Sundays, 2 pm, except February 15
Climb to the top of the ridge at Asan Beach to explore amazing remnants from World War II. Learn why this site has been set aside for its significance to the nation. This hike crosses varied terrain; please wear hiking shoes. Meet at the restrooms. Free; 30 minutes
Additional Special Events at the T. Stell Newman Visitor Center
Movie at the Museum                                Saturday, February 14, at1 pm
Did you know that the average American produces nearly 5 pounds of garbage each day? Stop by the Visitor Center theater to view the film "Trashed." This film explores the relationship between the waste we produce and the fragile natural resources we are so proud of. Free;1 hour
ScienceSunday                                                                    Sunday, February 15, at 2 pm
This series of programs features guest speakers who help make the science all around us applicable and fun. This month, learn about the research vessel the R/V Falkor and the fascinating work it recently performed around the Marianas Trench. Free;1 hour