Park Programs December 2011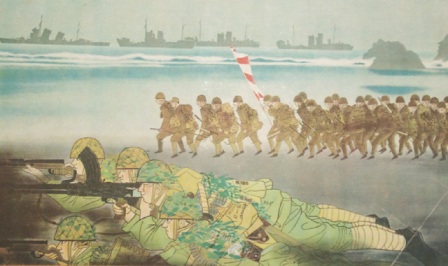 News Release Date:
December 1, 2011
Contact:
Benjamin Hayes
, 671-333-4051
Join park rangers this month for a variety of fun and interesting interpretive programs. Park Rangers will show movies, lead special guided tours of park sites, and share personal stories of those who fought in the Pacific War. Programs provide visitors an opportunity to learn about park resources, the people we honor, and how events of the past still influence us today. For specific program details, please see the attached schedule of events below.
All events are free and open to the public. Most programs occur outside at different locations and vary in length from thirty minutes to two hours. Hikes are moderate and short but traverse slippery and steep terrain, so wear appropriate footwear and attire. Visitors are encouraged to bring water, umbrellas, and insect repellant. In the event of inclement weather, programs may be delayed or cancelled. For detailed information, or if you have questions on specific programs, call 333-4050.
SCHEDULE OF EVENTS FOR THE MONTH OF DECEMBER


Visitor Center Closed Through December 5 - The T. Stell Newman Visitor Center is closed for renovation November 24 through December 5. The visitor center will reopen on December 6 but the theater will remain closed through January.

Saturday, December 3 - 2 p.m. at Asan Beach - "The Land Remains" - Meet at the restrooms and discover the layers of history at Asan Ridge through a fun hike. (45 minutes)

Sunday, December 4 - 2 p.m. at Asan Bay Overlook - "Soldier's Story" - Hear the story of one of Guam's sons, his World War II experience, and his harrowing return during the Battle of Guam. Did he really find what he was looking for? (30 minutes)

Saturday, December 10 - 7 p.m. at the Plaza de España in Hagåtña: - "Typhoon of War" - Join us as we remember the Japanese invasion of Guam, honor those who lost their lives, and mark the 70th anniversary of the shocking inauguration of World War II in the Pacific. Watch an outdoor movie and hear from our Man'amko as they describe some of the events that changed their lives and world history. (Two hours)

Sunday, December 11 - 2 p.m. at Piti Guns - "Guns Hike" - Meet at the Veterans Cemetery on Route 6 and we'll caravan to the hiking trail that leads to three large Japanese coastal defense guns. (45 minutes)

Saturday, December 17 - 2 p.m. at Asan Bay Overlook - "This is the day I will die."- Step back in time as rangers tell the story of one brave Marine who liberated Guam and left his name behind. (30 minutes)

Sunday, December 18 - 2 p.m. at Fonte Plateau - "We have only our bare hands to fight with." - Discover the Japanese Command Post bunker and learn about the Japanese struggle to defend Guam. (30 minutes)

Saturday, December 24 - 2 p.m. at Asan Bay Overlook - "Guam, Ever After" - Guam's role in World War II didn't stop with its Liberation. The years immediately following the war changed Guam forever. If you don't know how, you might be surprised to find out! (30 minutes)

Sunday, December 25 - All park facilities will be closed in observance of the Christmas Day holiday.

Saturday, December 31 - 2 p.m. at Ga'an Point - "We Fought for Guam" - Listen to the story of the brave men who experienced World War II as part of the 77th Army Infantry Division. (30 minutes)

Saturday, January 1 - All park facilities will be closed in observance of the New Year's Day holiday.