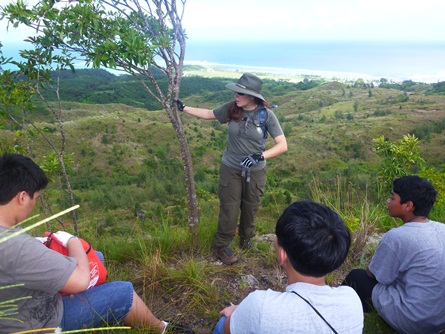 News Release Date:
March 29, 2013
Contact: Daniel Brown, 671-333-4051
Join park rangers and partners in
April
for a variety of fun and interesting interpretive programs. Park rangers will lead special guided tours of park sites and share their knowledge of Guam's environmental legacy. Programs provide visitors an opportunity to learn about park resources, the people we honor, and how events of the past still influence us today. For specific program details, please see the attached schedule of events.

All events are free and open to the public.  Most programs occur outdoors at different locations and vary in length from thirty minutes to one hour. Most hikes are moderate and short but traverse slippery and steep terrain, so wear appropriate footwear such as closed-toed shoes or hiking books and attire.  Visitors are encouraged to bring water, umbrellas, and insect repellant.  In the event of inclement weather, programs may be delayed or cancelled.  For more information or questions on specific programs, call 333-4050.
SCHEDULE OF EVENTS FOR

APRIL

2013


Throughout

April

-
The T. Stell Newman Visitor Center hosts spectacular exhibits and movies about Guam's history and natural resources and an outstanding bookstore operated by Pacific Historic Parks, our supporting non-profit partner. The visitor center is open from 9 am - 4:30 pm daily and is located just outside Naval Base Guam main gate.
April

6, Saturday: 8 am at Piti Bomb Holes -
"Ready, Set, Snorkel!" - Snorkel in your national park!  Experience the waters off Asan Beach with park biologists and learn how you can take care of Guam's coral reefs.
Meet at the Liberators' Monument at Asan Beach. Program limit of thirty participants; all minors must be accompanied by an adult.
(2 hours)
April

7, Sunday: 2 pm at Visitor Center -
"The Legacy of Coral Reefs" - Learn more about Guam's coral reefs and what they have witnessed over the last century. Biologists explore the unique and interesting aspects of our island's coral reefs. (1 hour)
April

13, Saturday: 9 am at Asan Beach -
"Hiking with History" - Learn about the Battle of Guam at Asan Beach! Youth from ages 10 and up are welcome to follow park rangers up a ridge for a breathtaking view of Asan.  Afterwards, explore Asan's jungles and shores to learn about the unique plants and animals of Guam. (Two hours)
April

14, Sunday: 2 pm at the Visitor Center -
"Your home with less waste" - Come learn how to make small changes in your home to reduce the amount of waste you create every day. This workshop is interactive and meant for all ages. (One hour)
April 20

, Saturday: 9 am at the Hagåtña Library -
"Earth Tales" - Kids join park rangers, partners, and puppets for crafts and imaginative stories about our beautiful, fragile planet. Learn how you - and adults, too - can make a real difference. (Two hours)
April

21, Sunday: 2 pm at the Visitor Center -
The Guam Division of Aquatic and Wildlife Resources presents "Guam Marine Protected Areas - Past and Future." Come and receive an awesome ridge to reef poster! (One hour)
April

27, Saturday: 9 am at Masso Reservoir -
Scavenger Hunt - Park rangers and partners will lead fun hikes in Guam's amazing environment. Meet at the Masso River Reservoir, just east of the Veterans' Cemetery on Route 6. (Two hours)
April

28, Sunday: 2 pm at Visitor Center -
"What is in our dirt?" - Learn more about the neat features of Guam's dirt and where it came from. Geologists will teach the interesting and fun history of soils in Guam. (1 hour)