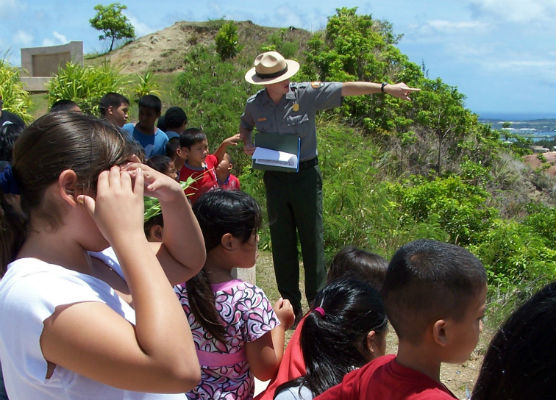 News Release Date:
September 12, 2013
Hagåtña- Teachers across Guam have a new tool to help them engage their students in classroom and place-based learning.
Today the National Park Service (NPS) launched a new online service for teachers that brings America's national parks, including War in the Pacific National Historical Park, into island classrooms. The new "Teachers" section of the National Park Service website at www.nps.gov/teachers provides a one-stop shop for curriculum-based lesson plans, traveling trunks, maps, activities, distance learning, and other resources. All of the materials draw from the spectacular natural landscapes and authentic places preserved in America's national parks.   
"War in the Pacific National Historical Park has long welcomed Guam's students to the park for field trips," said Ron Borne,superintendent ofWar in the Pacific National Historical Park. "And now, through the new "Teachers" National Park Service website, all 401 national parks are throwing open the doors and inviting teachers and students to learn about literature using a lesson plan from Carl Sandburg Home National Historic Site, borrow atraveling trunk from Lava Beds National Monument, chat online with a ranger at the Grand Canyon National Park, or visit Mt. McKinley in Denali National Park."
The War in the Pacific National Historical Park website includes a special "for teachers" section, www.nps.gov/wapa/forteachers.  Educators can learn how they can apply for an Education on Wheels grant, review dozens of lesson plans, and download special PowerPoint lectures featuring engaging primary sources. 
The www.nps.gov/teachers site is searchable by location, keyword, and more than 125 subjects, from archaeology, to biology, to Constitutional law. Teachers will, for the first time, be able to rate NPS-provided content. In addition to park-created content, the site also features educational materials created by NPS national programs like the National Register of Historic Places and its award-winning Teaching with Historic Places series of 147 lesson plans.
The website is just one part of the National Park Service's ongoing commitment to education. Every year, national parks offer more than 57,000 educational programs that serve nearly 3 million students in addition to 563,000 interpretive programs attended by 12.6 million visitors. The NPS is working with partners and educational institutions to expand programs and encourage the use of parks as places of learning. The NPS has partnered with the Department of Education to integrate national park resources into core curriculums. Each summer, teachers across the country are hired to work in parks to develop curriculum-based programs based on park resources through the Teacher-Ranger-Teacher program.
To learn more about the National Park Service's education programs, visit www.nps.gov/teachers.