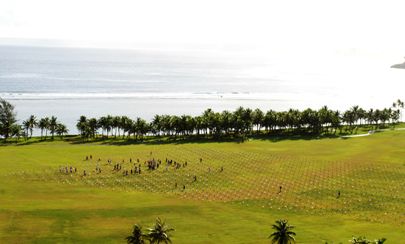 News Release Date:
May 31, 2011
Contact: Dan Brown, 671-333-4052
As the sun rose on the far side of the International Dateline, War in the Pacific National Historical Park on Guam held the honor of being the first park to commemorate Memorial Day. Members of the Naval Mobile Construction Battalion 133rd Detachment, the Air Force's 734th Air Mobility Squadron, and dozens of other volunteers joined park staff to remember fallen service members over the weekend. In honor of those who were killed on Guam during World War II, these volunteers and staff planted more than three thousand United States and Guam flags at the park's Asan Beach Unit, recalling the earliest meanings of Memorial Day.
Men of the 3rd Marine Division came ashore at Asan Beach under heavy Japanese fire on July 21, 1944. Beginning here, the battle of Guam would last three weeks. Once secure, the island became an important stronghold in the fight against Japan, only 1500 miles away. Each of the 1,866 United States flags represents one of the soldiers, sailors, airmen, or Marines who was killed during the 1944 Battle of Guam. Laid out side by side are 1,167 Guam flags, each standing for one of the local Guamanians who was killed during the island's harsh 32-month Japanese occupation. Throughout the weekend visitors and family members came to show their respects for the war dead and commented on what the flags meant to them personally.
"Never has Asan Beach looked so magnificent," said park superintendent Barbara Alberti. "War in the Pacific National Historical Park takes both great pride and great humility in remembering our military's sacrifices, and we extend our gratitude to all of our volunteers who came to commemorate Memorial Day with us." The flag planting was completed by 9 a.m., but many returned to Asan Beach in the evening for a special "Movie in the Park," held in conjunction with the morning's activity. This popular monthly presentation paired a short interpretive program with a World War II related film shown on a gigantic outdoor movie screen.
War in the Pacific National Historical Park was established in 1978 to commemorate the bravery and sacrifice of those participating in the campaigns of the Pacific theater of World War II and to conserve and interpret outstanding natural, scenic, and historic values and objects on the island of Guam for the benefit and enjoyment of present and future generations.