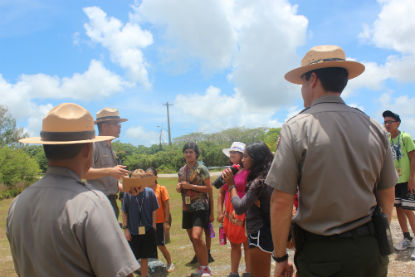 News Release Date:
May 1, 2012
Contact: Ben Hayes, 671-333-4051
All events are free and open to the public.
Most programs occur outside at different locations and vary in length from thirty minutes to two hours. Hikes are moderate and short but traverse slippery and steep terrain, so wear appropriate footwear and attire. Visitors are encouraged to bring water, umbrellas, and insect repellant.

 

In the event of inclement weather, programs may be delayed or cancelled. For detailed information or if you have questions on specific programs, call 333-405.
SCHEDULE OF EVENTS FOR THE MONTH OF MAY
·    Visitor Center Update - Be on the lookout for future announcements on the new engaging permanent exhibits. A special Guam topographic map exhibit will describe the Battle for Guam with laser lights and video clips.
·    Visitor Center Exhibit through May 10- View the Smithsonian Institute traveling exhibit "Between Fences" and the companion local exhibit "I Kelat" at the T.  Stell Newman Visitor Center until May 10. The Visitor Center is open daily 9 a.m. to 4:30 p.m. and located in Sumay in front of the Naval Station main gate.
·    Saturday, May 5 - 11 a.m. at the Visitor Center -"Children's Story and Activity Hour" - Join us at the visitor center special exhibit for a fun story followed by activities. (one hour)
·    Saturday, May 5 - 2 p.m. at Asan Beach - "Two Lives at Asan Beach" - Meet at the restrooms and learn how war brought two young men with incredibly different backgrounds together at Asan Beach but only one would walk away. (30 minutes)
·    Sunday, May 6 - 2 p.m. at Asan Beach - "The Land Remains" - Meet at the restrooms and explore the history of Asan Ridge through a fun hike. (45 minutes) (30 minutes)
·    Thursday, May 10 - 6 p.m. at the Visitor Center: -"Families Under Siege" - You are invited to an after-hours program and movie which concludes the Smithsonian exhibit, "Between Fences." Watch Families Under Siege, and hear survivors recall their war experiences. (Two hours)   
·    Saturday, May 12 - 2 p.m. at Piti Guns: -"Guns Hike" - Meet at the Veterans Cemetery on Route 6 and we'll caravan to the hiking trail that leads to three large Japanese coastal defense guns. (45 minutes)
·    Sunday, May 13 - 2 p.m. at the Visitor Center - "Calm Before the Storm" - Stop by the visitor center for a special screening of rare color movies of pre-war Guam and learn about the Chamorro people that gave the ultimate sacrifice defending Guam from Japanese invasion in December, 1941. (30 minutes)
·    Saturday, May 19 - 6:30 p.m. at Asan Beach - "Movie in the Park" - How do students relate to the events and impact of World War II on Guam? Experience a different perspective as we watch several movies about the island's World War II past produced by Guam Community College students. (45 minutes)
·    Sunday, May 20 - 2 p.m. at Fonte Plateau - "Prisoners!" - Hear the story of a young mother, a newborn, and five navy nurses who helped each other when the Japanese attacked Guam in 1941. (30 minutes)
·    Saturday, May 26, through Monday, May 28, Memorial Day Weekend Flag Display - In recognition of the men and women who died serving in the U.S. Armed Forces, join us for a special flag display in their honor. Volunteers are needed on Saturday May 26, as we lay out our flags of remembrance.  Call 333-4050 for more information
·    Saturday, May 26 - 2 p.m. at Asan Beach - "Sailor's Story" - Join us at the flag display for a look at pre-war Guam and the story of how one young man became caught up in a tragedy he never could have expected. (30 minutes)
·    Sunday, May 27 - 2 p.m. at Ga'an Point - "We Fought for Guam" - Listen to the story of the brave men who experienced World War II as part of the 77th Army Infantry Division. (30 minutes)
-NPS-