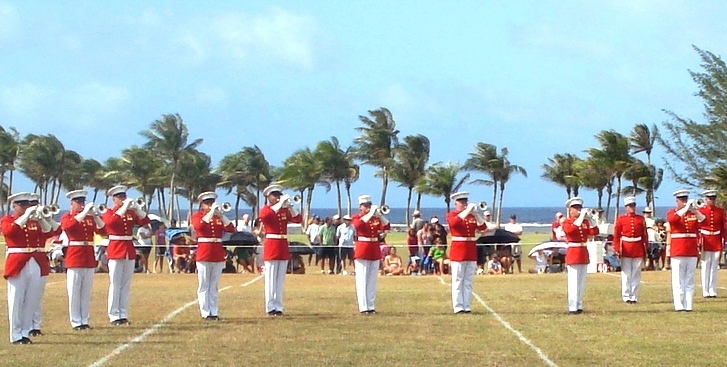 News Release Date:
March 31, 2010
Contact: Dan Brown, Park Ranger, (671) 333-4051
(Asan, GU) On the morning of July 21, 1944, more than twenty thousand U.S. Marines stormed the Asan beaches that made up the northern invasion site during the WWII Liberation of Guam. On March 7, 2010, that location, known today as the Asan Beach Unit of War in the Pacific National Historical Park, again hosted an historic event for the Marine Corps on Guam: a sensational performance by the U.S. Marine Corps Battle Color Detachment.

An enthusiastic crowd was treated to presentations by each of the three components of the Detachment. The Drum & Bugle Corps, known as "The Commandant's Own," performed intricate marching and formations along with several musical arrangements including John Philip Sousa's "The Stars and Stripes Forever." The Silent Drill Platoon demonstrated precision drill exercises with rifles, and the Color Guard of the Marine Corps proudly presented the Official Colors during the ceremony.

Locally poignant was the swearing in of more than three dozen new Marine recruits from Guam and the CNMI just before the ceremony. Retired Marine Brigadier General Vicente "Ben" Blaz, who grew up on Guam during the years of the Japanese Occupation of World War II, administered the Oath of Enlistment for these young men and women.

The Battle Color Detachment, based at the Marine Barracks in Washington, D.C., is conducting a tour throughout the Pacific region that includes stops on Okinawa, Iwo Jima, and at Pearl Harbor, Hawaii. War in the Pacific National Historical Park was very privileged to welcome this elite group to the shores of Asan Beach to showcase the spirit of Semper Fi where their comrades before them have left behind a spirit of bravery and sacrifice.

For more information on the detachment, visit the U.S. Marine Corps Battle Color Detachment website or the "Commandant's Own" website. To learn more about the Park, call Park Rangers at 671-333-4050.