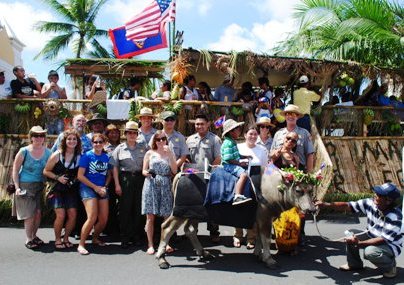 News Release Date:
July 22, 2011
Contact: Dan Brown, 671-333-4051
War in the Pacific National Historical Park on Guam celebrated with the island community in its largest event of the year – the 67th Liberation Festivities. Since 1944, the year Guam was liberated from Japanese occupation by U.S. forces, the island has reflected on the bravery and sacrifice of many – American servicemen and civilians – in the re-taking of this American territory.
The focal point of the annual celebration is the parade, held on Liberation Day, July 21. Guam's villages, military branches, organizations, government agencies, and other groups show their pride and creativity with bands, marches, and scores of hand-made floats. The parade is over four hours long and brings thirty-thousand spectators. This year, the park partnered with the village of Asan, upon whose beaches the 3rd Marine Division came ashore on the first day of the 1944 battle, to decorate a float and enter it in the parade. We thank Mayor Vicente San Nicolas and the Village of Asan for this partnership.

This year's theme to commemorate the 67
th
anniversary of the Liberation of Guam was "
Our Man'amko, Our Legacy."
In keeping with the theme of honoring the island's elderly, our float included native plants, tropical fruits, cultural crafts, a working barbeque grill, some very festive local livestock, and a warm island spirit. Along with park rangers and the park's Youth Conservation Corps who rode and marched in the parade, the float was recognized and enjoyed by Eddie Baza Calvo, Governor of Guam; Madeleine Z. Bordallo, Member of Congress; and Tony Babauta, Assistant Secretary for Insular Affairs, U.S. Department of the Interior.
Other park events included a tour of battle sites for returning veterans who fought on Guam in 1944, several interpretive talks and hikes for the public, and the annual wreath-laying ceremony at the Asan Bay Overlook, memorializing those who suffered the harsh 32-month Japanese occupation and those who were killed during combat.