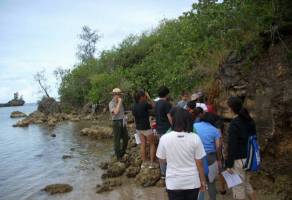 News Release Date:
October 1, 2011
Contact: Benjamin Hayes, 671-333-4052
In the month of October, War in the Pacific National Historical Park is proud to host Guam's second Junior Ranger Academy. The Junior Ranger Academy is a great opportunity for youths to learn about Guam and our national parks, have fun, and share their park experiences with families, friends, and schoolmates.
Junior Rangers can spend their weekends with park rangers. They will see real World War II artifacts, hear about WWII battles on Guam and Alaska, visit World War II historical places, explore a watershed in their park, and participate in restoring a WWII site. Junior Rangers are ambassadors of our parks and they help fulfill the National Park Service mission of stewardship and preservation.
Junior Ranger Academy is free. Students in 7th and 8th grades are eligible to join but you must register in order to participate. To sign up, download a registration packet at:
go.nps.gov/jr-ranger-guam
or call Education Specialist Jackie Zapanta at 477-7278 ext. 1015. Space is limited so don't delay.
Junior Ranger programs will run every Saturday during the month of October. Registered participants who complete at least four of the many programs will become Junior Rangers and receive an official Junior Ranger badge and certificate.
For more information, including a schedule of Junior Ranger Academy programs, visit the park visitor center in Sumay or the park administrative office in Hagåtña, or call 333-4050.