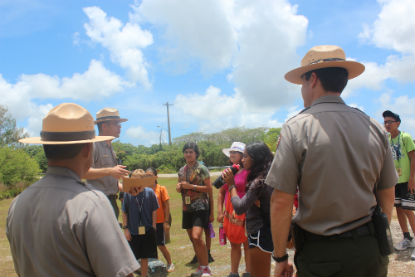 News Release Date:
April 30, 2014
Contact: Ben Hayes, 671-333-4051
Throughout May - The T. Stell Newman Visitor Center hosts spectacular exhibits and movies about Guam's history and natural resources as well as an outstanding bookstore operated by Pacific Historic Parks, our supporting non-profit partner. The visitor center is located just outside Naval Base Guam main gate and is open daily from
9 am – 4:30 pm
.
May 3

,

 

Saturday: 2 pm

 

at Ga'an Point - "Agat Amtrac
" - During the 1944 Battle of Guam, some Liberators didn't even make it to shore. Find out how an offshore wreck shows the surprising, unintended destinies of these Marines and their machines.
May 4

,

 

Sunday: 2 pm

 

at Fonte Plateau - "Death Before Dishonor"
- Ever wonder about those big, strange cave doors on Nimitz Hill? Discover the Japanese Command Post bunker and the haunting, true tale of its last inhabitants. (30 minutes)
May 10

,

 

Saturday: 2 pm

 

at Apaca Point - "We Fought for Guam"
- Listen to the story of the brave men who experienced World War II as part of the 77th Army Infantry Division. Their sacrifice is not forgotten. (30 minutes)
May 11

,

 

Sunday: 2 pm

 

at Piti Guns - "Guns Hike
" - Meet at the Veterans Cemetery on Route 6 and we'll caravan to the short hiking trail that leads to three large coastal defense guns. Although these are the only guns in their original positions protected by the park, we'll discover another reason why they are particularly unique. (1 hour)
May 17

,

 

Saturday: 11 am

 

at Ga'an - "You Can Change Climate Change"
- We've all heard the terms climate change, global warming, sea level rise, and ocean acidification, but what does all that really mean? Find out and learn what you can do. (30 minutes)
May 18

,

 

Sunday: 2 pm

 

at Visitor Center - "Science

 

Sunday

"
- Learn more about the amazing marine life around us! Eric Cruz, biologist for NOAA's Pacific Island Fisheries Science Center, will talk about his current project studying the life histories of reef and bottom fish species. (1 hour)
May 24

,

 

Saturday: 7 am

 

at Asan Beach - "Volunteer Event"
- Here's your chance to make a positive investment in this year's Memorial Day. Our annual display recognizes the thousands of Americans and Chamorros killed on Guam during World War II. Join us as a volunteer and help lay out our flags of remembrance. To get involved, call 333-4050.
May 24

,

 

Saturday: 1 pm

 

at Visitor Center - "Curator's Corner"
- The recapture of Guam 70 years ago meant drastic changes for the course of World War II. Yet at the same time, because of the war, the island itself would never be the same. Find out how those few short years altered Guam forever, through a special hands-on presentation. (2 hours)
Memorial Day Weekend – View the inspiring flag display at Asan Beach. Honor the bravery of our armed forces, past and present. Reflect on those who have made the ultimate sacrifice for the cause of democracy and freedom.
May 25

,

 

Sunday: 2 pm

 

at Asan Beach - "This Flag is For…"
- A park ranger will be available to discuss the symbolism of the flags at Asan Beach and the stories of some of the people who lost their lives on Guam during World War II. (2 hours)
May 27

,

 

Tuesday: 7 am

 

at Asan Beach - "Volunteer Event"
- Didn't get a chance to help put up the flags? You can still lend a hand by taking them down after the event.
May 31

,

 

Saturday: 9 am

 

at Asan Beach - "The Land Remains"
- Meet at the restrooms and explore the history of Asan Ridge through a fun hike. (1 hour)
                                                                                       - NPS -