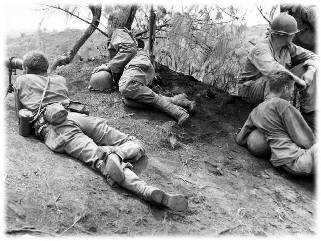 News Release Date:
July 18, 2010
Contact: Dan Brown, 671-333-4050
World War II Museum Artifacts on Display
The public is invited to another popular "Curator's Corner" at the War in the Pacific National Historical Park. What is a "Curator's Corner"? Superintendent Barbara Alberti explained, "It is an excellent opportunity to see artifacts from the park's museum collection and learn about them first-hand from our Curator."
During this month when Guam celebrates Liberation, we return to that decisive battle and WWII as a whole to learn the local significance of rare 1940s military issue items. Displayed artifacts include a Japanese type-99 Arisaka rifle, an M-1 Garand, U.S. Marine Corps and Imperial Japanese uniforms, and other accoutrements. Join Park Ranger James Oelke for a free up-close viewing of selected artifacts along with a discussion on the history of the objects.
What: Curator's Corner - WWII museum objects on display
When:          1-3 p.m., Saturday, July 24, 2010
Where:         T. Stell Newman Visitor Center (near the front gate to Naval Base Guam)
For more information, contact Park Ranger Dan Brown at 671-333-4050. To learn more about the park, please visit our website at www.nps.gov/wapa.