Date:
March 27, 2016
Contact:
Kelly Carroll
, 671-333-4050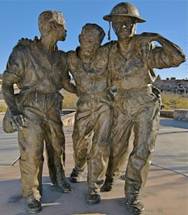 April Public Programs at War in the Pacific National Historical Park
April 2, Saturday: 12 pm to 2 pm at Asan Beach –"Explore World War II Artifacts"
Join us anytime between 12:00 pm and 2:00 pm at Asan Beach to explore our WWII-era artifacts table. Get hands-on knowledge about US and Japanese weapons, uniforms, and other items used during World War II.
April 3, Sunday: 2 pm at Asan Beach - "Asan Beach Ridge Guided Hike"
Nearly 71 years ago Chamorros were forced to build WW II defense structures throughout the island. Join a park ranger on a hike to discover hidden defenses at Asan Ridge. Meet at the restrooms, please wear sturdy shoes, and bring water! (45 minutes)
April 9, Saturday: 9 am at Asan Beach - "Keep Guam Beautiful"
This community cleanup will take place at Asan Beach - a former WWII invasion beach. Cold water in coolers, protective gloves, and trash bags will be provided. Please bring refillable water bottles and wear closed-toe shoes, hats, and sunscreen. For more information, please contact e-mail us.
April 16, Saturday: 10 am - 5 pm at Agana Shopping Center - "Ticket to Ride" Student Art Exhibit
The public is invited to view the Ticket to Ride Jose Rios Middle School Student Art Exhibit.Student artwork was created after taking a school-wide field trip to the park. Students provide their personal perspectives on what their national park means to them.This exhibition will continue throughout the week
April 17, Sunday: 2:00 pm at Visitor Center - "Science Sunday" Presentation
Science Sunday features current research projects happening right here in Guam and the Micronesian region.For more information on this event, call 646-1905 or email gureefmonitoring@gmail.com. (1 hour)
April 23, Saturday: 10 am to 12 noon at Asan Beach –"Junior Ranger Day"
April 23 is Junior Ranger Day! Visit us with your kids to learn all about our Junior Ranger Program. Meet our Park Rangers, learn about the requirements and benefits of becoming a Junior Ranger, and get sworn in by a park ranger!All ages are welcome.
April 24, Sunday: 1 pm to 3 pm at Asan Bay Overlook –"Secrets of Asan Bay Overlook"
Join park rangers anytime between 1:00 pm and 3:00 pm to discover the often unnoticed parts of the Asan Bay Overlook.Get a birds-eye view of the northern invasion beaches, explore the memorial wall, and learn the secrets.Asan Bay Overlook is located about 2 miles from the Veterans Cemetery on Route 6.
April 30, Saturday: Time TBD at Visitor Center - "History Revealed with Dr. Ricardo J. Jose"
The Park is honored to host Dr. Ricardo T. Jose, Professor of History at the University of the Philippines in cooperation with the Philippines Consulate of Guam, the Honorable Marciano R. De Boria. Dr. Jose is a renowned expert on the World War II history of the Philippines and will be speaking on this subject.