Teacher-Ranger-Teacher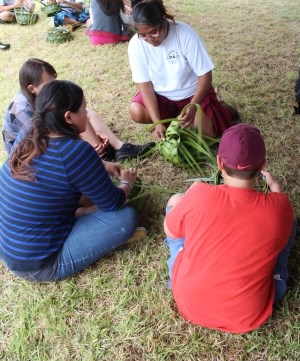 War in the Pacific National Historical Park is now accepting applications for a Teacher Ranger Teacher opportunity. The nationwide Teacher-Ranger-Teacher (TRT) program is a unique professional development opportunity for educators to gain hands-on experience in the summer working side by side with park interpreters, researchers, patrol rangers, resource managers, trail crews, and other specialists. The opportunity includes a $3,000 stipend and three graduate credit hours through the University of Colorado Denver. Applications are due by May 16.
The emphasis of this program is to link National Parks and teachers from schools with underserved student populations in urban and rural school districts. TRTs spend the majority of their time engaging with park education projects, learning about park resources, and developing lesson plans to use in their classrooms and in the park with students. TRT experiences also include exposure to a variety of work performed at War in the Pacific National Historical Park by employees from many career fields. When TRTs return to school in the fall, they spend part of their classroom time presenting their TRT projects to their own students and to a wider education audience.
Once selected, the TRT will help the War in the Pacific National Historical Park in organizing, developing, and participating in the park's first ever Teaching with Historic Places Teacher Workshop, which will take place in late July and early August 2014.
According to Education Specialist Jaclyn Balajadia, "This opportunity will offer innovative place-based learning strategies, teaching with historic places concepts, sample lesson plans, historical thinking skills using primary resources that meet Common Core standards, opportunities for teachers to utilize the park resources in the classroom, as well as a generous stipend and graduate school credit."
Download an application here or call Education Specialist Jaclyn Balajadia at 477-7278, extension 1015.
Last updated: October 12, 2017