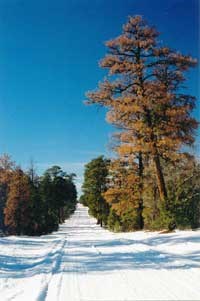 Not all of Arizona is warm dry desert. Weather can vary widely, especially with elevation.
At Walnut Canyon (6690'/2039m above sea level), be prepared for snow in winter, hot sun in summer with afternoon thunderstorms, and, especially in spring, strong gusty winds on the rim and/or in the canyon. Best advice - dress in layers, because the weather can change quickly at any time of year.
Click here for the
current Flagstaff weather forecast.