Visitor Centers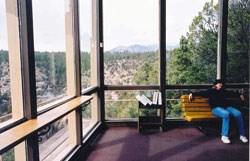 Walnut Canyon Visitor Center

Open All Year. Click here for hours.

Phone
(928) 526-3367

Location
Leave I-40 at Exit 204, 7.5 miles (12 km) east of Flagstaff; drive south 3 miles (5 km) to the canyon rim. Warning: Tight turn around for towed vehicles; 40 feet (12 meters) maximum length advisory.

Closures
Closed December 25th.
Exhibits
Museum exhibits and artifacts are on display.
Interpretive Programs
Ranger talks and guided walks are offered during much of the year. See a schedule.

Facilities
Bookstore, restrooms and picnic area. Information to help plan your visit.
Food, supplies and overnight accomodations are available in Flagstaff.



Last updated: March 17, 2015