Visitor Centers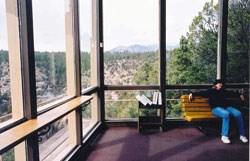 Walnut Canyon Visitor Center

Hours
The Walnut Canyon visitor center is open year-round (see holiday closures below) from 9:00 a.m. – 5:00 p.m.

Phone
(928) 526-3367

Directions
Take Exit 204 off of I-40, 7.5 miles (12 km) east of Flagstaff; drive south 3 miles (5 km) to the visitor center. Warning: Tight turn around for towed vehicles; 40 feet (12 meters) maximum length advisory.

Holiday Closures
There is no access to Walnut Canyon, including the visitor center on January 1st and December 25th. The park closes at 1:00 p.m. on Thanksgiving Day.

Museum
Learn about Walnut Canyon's history, and view exhibits and artifacts in the park's museum. The museum is located inside the visitor center.

Park Film
Learn about Walnut Canyon's cultural and natural history by viewing the park's twenty-minute film. The film plays on a continuous loop inside the museum, located within the park's visitor center.

Interpretive Programs (Cancelled)
Ranger talks and guided walks are offered during much of the year. View the schedule for upcoming programs. Interpretive talks are held inside the visitor center or on the back patio. Walks begin at the visitor center and go along the park's Island or Rim Trail.

Accessible Viewpoints
Take in expansive views of Walnut Canyon and see cliff dwellings from a distance from the visitor center's two observation points. Both the indoor and back patio observation areas are accessible.

Western National Parks Association (WNPA) Store
The park's non-profit partner operates a store that sells books, apparel, souvenirs, authentic Native American art and jewelry, games, and a limited selection of snacks. The proceeds from purchases at the WNPA store go to advance education, interpretation, research, and community engagement at the Flagstaff Area National Monuments.
Restrooms
Restrooms are located just outside the visitor center and are accessible.

Facilities
Food, supplies and overnight accommodations are available in Flagstaff.


Last updated: January 2, 2023