Island Trail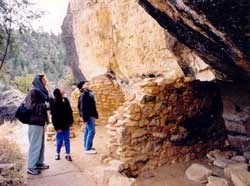 It has been more than 700 years since Walnut Canyon echoed with the voices and sounds of a robust pueblo community. Today, the Island Trail leads you back in time, and welcomes you into the world of the Native people archeologists call Sinagua. You'll experience 25 cliff dwelling rooms along the trail; and gaze at others visible across the canyon.
Do your part in preserving the park by staying on established trails, not climbing or leaning on dwelling walls, and by not removing or disturbing any features.
Entry to the Island Trail closes at 4:00 p.m. This provides ample time for visitors to explore the trail before the park closes at 5:00 p.m.
In Winter the Island Trail may be closed as a result of snowy or icy conditions. Please check the alerts section of the website, or call (928) 526-3367 for up-to-date trail conditions.
| | |
| --- | --- |
| Distance | 1 mile round-trip |
| Time | 1 hour round-trip |
| Difficulty | Strenuous, especially for those not acclimated to 7,000' elevation. The trail descends 185 vertical feet into the canyon, and returns the same way. |
| Accessibility | The trail is paved, but not accessible to wheelchairs, due to steep canyon terrain and many stairs. |
Last updated: December 18, 2018