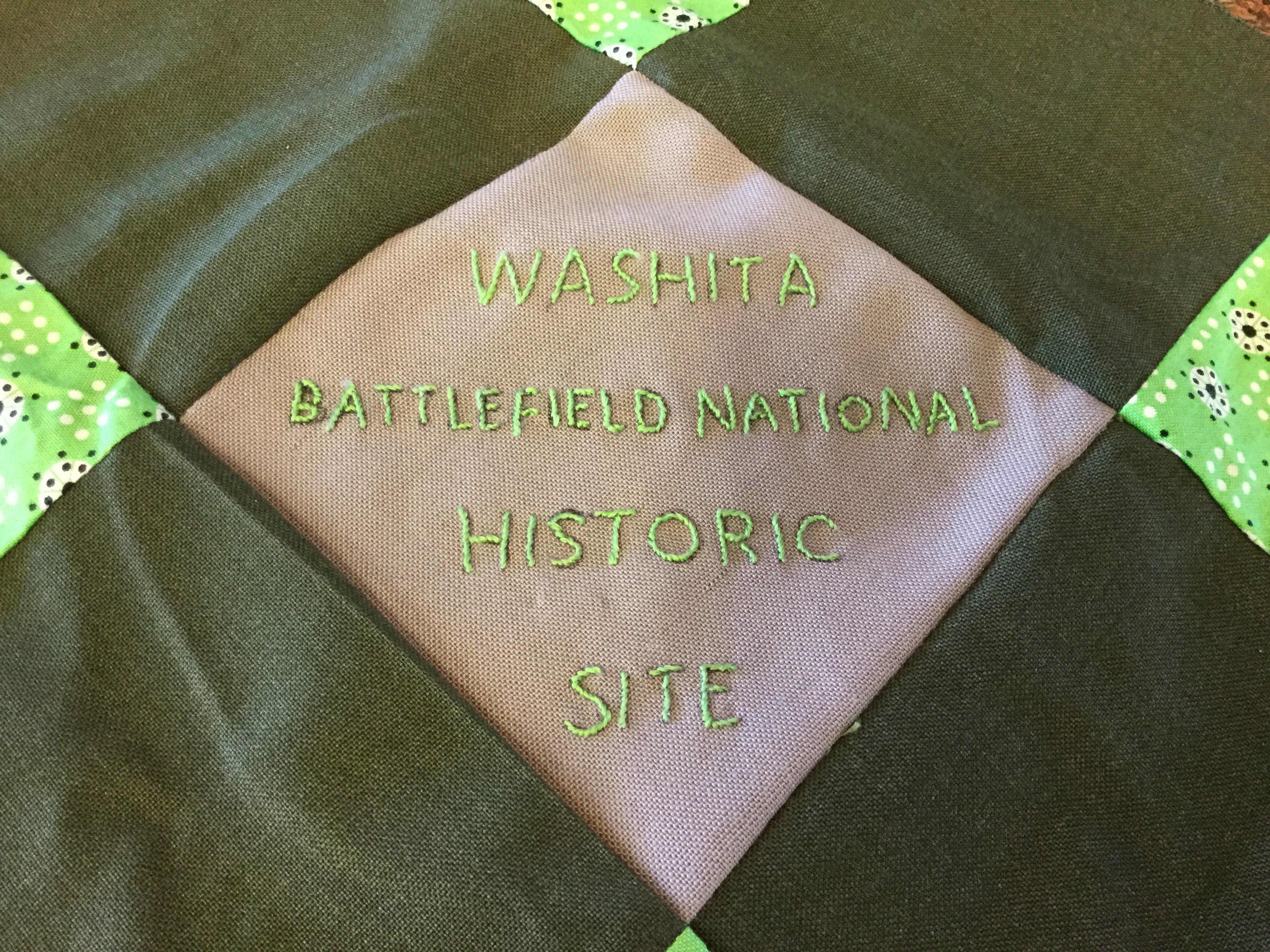 News Release Date:
January 4, 2018
Contact: Sydney Stover, 580-497-2742 x 3010
CHEYENNE, Oklahoma: Washita Battlefield National Historic Site is hosting a free Tea Party & Quilt Reveal on January 9th, 2018 from 12:30 pm to 3:00 p.m. at the Cheyenne Senior Citizens Center. All are invited to attend the free 'come and go' High Tea to view the finished anniversary quilt.
The National Park Service (NPS) Rangers will be serving High Tea with various goodies and teas to celebrate the completion of a specially created Anniversary Quilt in honor of the Battle of the Washita's 150th commemoration in 2018. Over the past several months, Volunteers-in-Park, the Crawford Ladyfingers, and NPS staff shared countless days in the visitor center gallery quilting the unique anniversary quilt and sharing their knowledge of the quilting craft with visitors from around the world. Their efforts will be continually shared with the community as the quilt travels to numerous locations in Oklahoma throughout the year.
WHAT: The Sesquicentennial Quilt Presentation
WHEN: January 9, 2018 from 12:30 pm to 3:00 pm
12:30 pm: Program by Park Ranger Sydney Stover
1:00 pm: Unveiling of the Sesquicentennial Quilt
1:00 pm: Presentations to Crawford Ladyfingers
1:00 pm to 3:00 pm: High Tea Party! "Come & Go" Style.
WHERE: Cheyenne Senior Citizens Center
Address: 309 Cearlock Ave, Cheyenne, OK 73628
Phone: (580) 497-3709
WHO: Everyone!
IMPORTANT NOTE: There is no cost for the NPS High Tea. However, the Noon Lunch (12:00 pm) served by the Senior Citizens Center is not covered by the NPS, and prices do vary. You must call Patti by 2:00 pm on January 8th, 2018 at (580) 497-3708 to reserve a Noon Lunch spot if you wish to eat before the program and tea party begin at 12:30 pm.