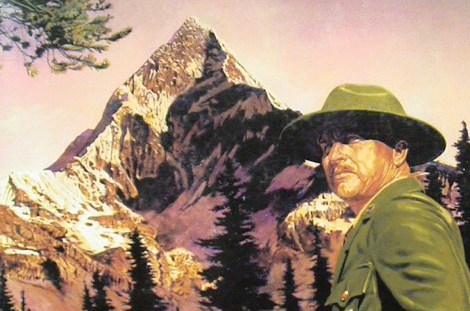 News Release Date:
January 19, 2016
Contact: Kevin Bowles-Mohr, 580-497-2742 x 3003
Join Ranger Karena (Minor) Davis on Sunday, January 31 at 2:00 p.m. to explore the legends, history, and stories of the stewards of our national parks, the park ranger.
From the flat hat to the green pants and brown hiking boots, the iconic look of park rangers is an expected sight at any national park. The presence of the park ranger within our parks does not begin with the creation of America's first national park in 1872. Rather, the first park rangers appeared in 1905, and it was not until 11 years later that national parks and the national park ranger  were unified under one centralized government agency, the National Park Service.
The national park ranger has evolved from soldiers in the army to a profession in its own right. The history of the national park ranger is rich in tradition. A new exhibit will also be unveiled; displaying a signed copy of The Adventures of a Nature Guide by Enos Mills, sometimes referred to as the grandfather of Park Rangers. Enos Mills also championed the creation of the nation's tenth national park, Rocky Mountain National Park. He hoped that: "In years to come when I am asleep beneath the pines, thousands of families will find rest and hope in this park." Come learn more about Park Rangers and see other items on display this Sunday.
WHAT: "The Legendary and the Iconic: Exploring the History of the American Park Ranger", plus the unveiling of a new exhibit case with artifacts relating to the Centennial of the National Park Service
WHEN: Sunday, January 31, at 2:00 p.m.
WHERE: Washita Battlefield National Historic Site Visitor Center Theater
Upcoming Events: 
WHAT: "Chips, Cookies, & Conversation" a Find Your Park lecture series by Park Ranger Kevin Bowles Mohr and the Martin Luther King Jr. National Park Service sites.
WHEN: Sunday, February 7, 2016 at 2:00 p.m.
WHERE: Washita Battlefield National Historic Site Visitor Center
WHAT: Ill Wind, Washita Battlefield Book Club discussions
WHEN: February 9 and February 25, 2016
WHERE: Minnie R. Slief Library and at the Elk City Carnegie Library, respectively