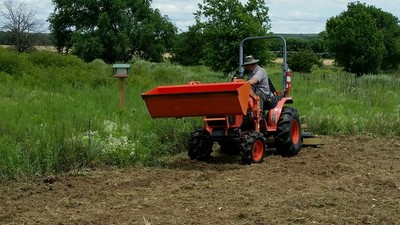 News Release Date:
June 16, 2015
Contact: Richard Zahm, (580) 497-2742 ext. 3011
Contact: Joseph Barnett, (580) 497-2143
For the week of June 15 -21, Washita Battlefield National Historic Park, working jointly with the Black Kettle National Grasslands (USFS), and park volunteers, will be at work on a variety of projects.Seed packets, provided by Burpee Garden Products, will be handed out to all visitors to plant in their gardens.
A second project will involve the creation of a pollinator garden along the Dust and Fire Trail, which circles the park's visitor center parking lot. The preparatory work on this garden begins at 8:30 a.m. on Saturday, June 20.Kids, both young and "young at heart" will learn about the importance of pollinators to the environment.This project will also let them be a part ofthe global effort to guarantee that there will be future generations of pollinators.
WHERE: Washita Battlefield National Historic Site Visitor Center (parking lot)
WHAT: Seeding for the Future of Far Western Oklahoma
WHEN: Saturday, June 20, 2015 at 8:30 am
Future Events:
WHERE: Washita Battlefield National Historic Site Visitor Center
WHERE: Summer Movies in the Park
WHAT: Saturday, June 20, 2015 at 7:00 pm
WHERE: Washita Battlefield National Historic Site Visitor Center
WHAT: Growing Up in the Grasslands
WHEN: Sunday, June 21, 2015 at 2:00 pm