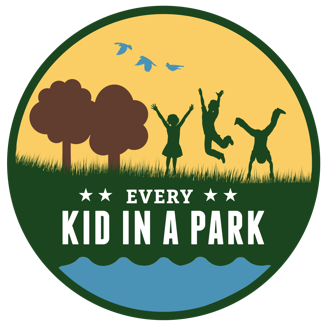 News Release Date:
September 15, 2015
Contact: Kevin Bowles-Mohr, (580) 497-2742 ext. 3003
The National Park Service will celebrate its Centennial in 2016. An integral part of this celebration is a broad and ambitious initiative to enable every American fourth grader and his or her family the opportunity to visit our parks, monuments, and and waters for an entire year - by obtaining a free Every Kid in a Park pass. This pass will be valid for the student's fourth grade school year, beginning in August 2015 and ending in September 2016. The goal is to introduce America's natural  wonders and historic sites to new generations of stewards, as the park's prepare to enter their second century.
So, how do fourth graders receive an Every Kid in the Park pass? Visit the website https://everkidinapark.gov to learn more about the program and participate in the activities to obtain the FREE Every Kid in a Park pass. Educators and community leaders can access educational activities, field trip options, and the ability to print passes for their classrooms.
The goal of the Every Kid in a Park program is to connect 4th graders with the great outdoors and inspire them to become future environmental stewards, ready to preserve and protect national parks and other public lands for years to come. The program is an important part of the National Park Service's centennial celebration in 2016, which encourages everyone to Find Your Park.
Every Kid in a Park is an administrative-wide effort, launched by President Obama, and supported by eight federal agencies, including the National Park Service, the U.S. Forest Service, the Army Corps of Engineers, Bureau of Land Management, Bureau of Reclamation, Department of Education, Fish and Wildlife Service, and National Oceanic and Atmospheric Administration.
Have fun and remember...America's national parks belong to you. We can't wait to see you in the parks!
WHAT: Every Kid in a Park
WHEN: Starting September 1st and continuing through 2016
WHERE: Any national park