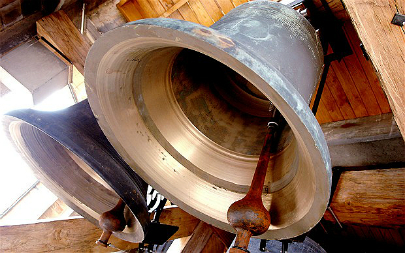 News Release Date:
March 30, 2015
Contact: Kevin Bowles Mohr, 580-497-2742
On April 9, 1865, Union Gen. Ulysses S. Grant met Confederate Gen. Robert E. Lee to set the terms of surrender of Lee's Army of Northern Virginia. To commemorate the historic meeting between Grant and Lee in the McLean House, Appomattox Court House National Historical Park will ring a bell at 2:00 pm CDT (3:00 pm EDT) on April 9, 2015, 150 years to the moment. After the ringing at Appomattox, at precisely 3:15 pm EDT bells will reverberate throughout the land as the country marks the symbolic end of the Civil War, and the pivotal beginning of freedom and civil rights.
Please join Washita Battlefield National Historic Site on Thursday, April 9, to ring bells at 2:15 pm CDT for four minutes, each minute symbolic of a year of war. Washita Battlefield National Historic Site will have Rangers in four locations to ring bells with community members. Two Rangers will be working with students at at Reydon  Public Schools and Cheyenne Public Schools, while two more Rangers will be stationed at the Roll One Room School House and Metcalfe Museum. The Roll One Room School House and the Metcalf Museum programs are open to the public. Rangers will discuss the Civil War and its connections to Washita Battlefield National Historic Site and the community.
These reverberations will not only mark the end of the bloody conflict in which more than 750,000 Americans perished, but ring in celebration of freedom or a restored Union. Or ring as an expression of mourning and a moment of silence for the fallen. Reverberations may also mark the beginning of reconciliation and reconstruction, or as the next step in the continuing struggle for civil rights.
If you are unable to join us, see the historic moment virtually! The bell-ringing at Appomattox will be streamed live online at 2:00 pm (CDT) (3:00 pm EDT). The live stream is provided by MAGPI and the University of Pennsylvania at:
http://video.magpi.net/videos/livestreams/page1/
WHAT: Bells across the Land
WHEN: Thursday, April 9, 2015, at 2:00 pm
WHERE: Roll One Room School House, located in the City Park 1 mile south of the junction of Hwy 47 and Hwy 283 in Cheyenne, OK, Metcalfe Museum, located at 8647 N. 1745 RD Durham, OK