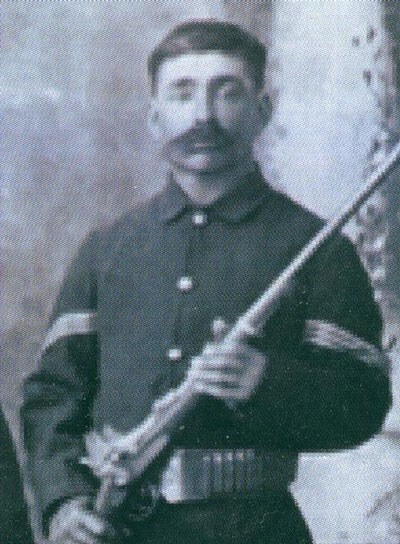 Raphael Romero was born around 1843 to a Mexican father and an Arapaho mother. He was captured by the Comanches when he was nine and trades to the Kiowas. He lived most of his youth amongst the Southern Plains Indians. He knew various languages of the Plains Indians and their knowledge of the frontier.
Romero served a year with the Second Colorado Cavalry during the Civil War. In late 1865 he settled amongst the Arapaho and married into the tribe. Around 1867 he left the tribe after a shooting incident with Big Mouth's son.
During the Winter Campaign of 1858-69, he was hired as a scout and interpreter for the 7th U.S. Cavalry. Lt. Col. George A. Custer sent Ben Clark, Jack Corbin, and Romero to find the location of the village and the number of lodges, or tipis. Romero entered the village and counted all fifty-one lodges. Later during the fighting, Custer put him in charge of the 53 Cheyenne women and children captives. It was during this time that he received the nickname "Romeo."
After Washita, he married one of the Cheyenne captives, Coming in Sight Woman, who gave birth to his daughter, Ella. During the 1870s, Romero worked for Indian traders and served as a guide and interpreter for the agency. He accompanied the Southern Plains Indian prisoners to St. Augustine, Florida in 1875. In 1880, Coming in Sight Woman left him, Romero married a fifteen-year-old Cheyenne girl, Sand Hill Woman, by whom he had numerous children. Until his death on July 2, 1902 at Calumet, Oklahoma, Romero served a vital role as an intermediary between the Cheyennes and the whites.


Bibliography

Greene, Jerome A. Washita: The U.S. Army and the Southern Cheyennes, 1867-1869.
Norman: University of Oklahoma Press, 2004. (pgs 94-95, 111, 120, 169, 189-190)

Hardoff, Richard. Washita memories: eyewitness views of Custer's attack on Black Kettle's village.
Norman: University of Oklahoma Press, 2008. (pgs 21, 87, 88, 142, 185, 192, 227, 231, 363, 383)