Lake Navigation
Navigating the Park Waterways
Voyageurs National Park contains 84,000 acres of water, 655 miles of undeveloped shoreline, and more than 500 islands. Water-based travel is the predominant way to experience this national park. Four large lakes: Rainy, Kabetogama, Namakan, and Sand Point Lakes and 26 smaller interior lakes provide access to campsites, visitor destinations, hiking trails, and many recreational activities. Whether in a houseboat, motorboat, canoe, sailboat, or kayak, safely navigating the waterways is crucial for an enjoyable park experience.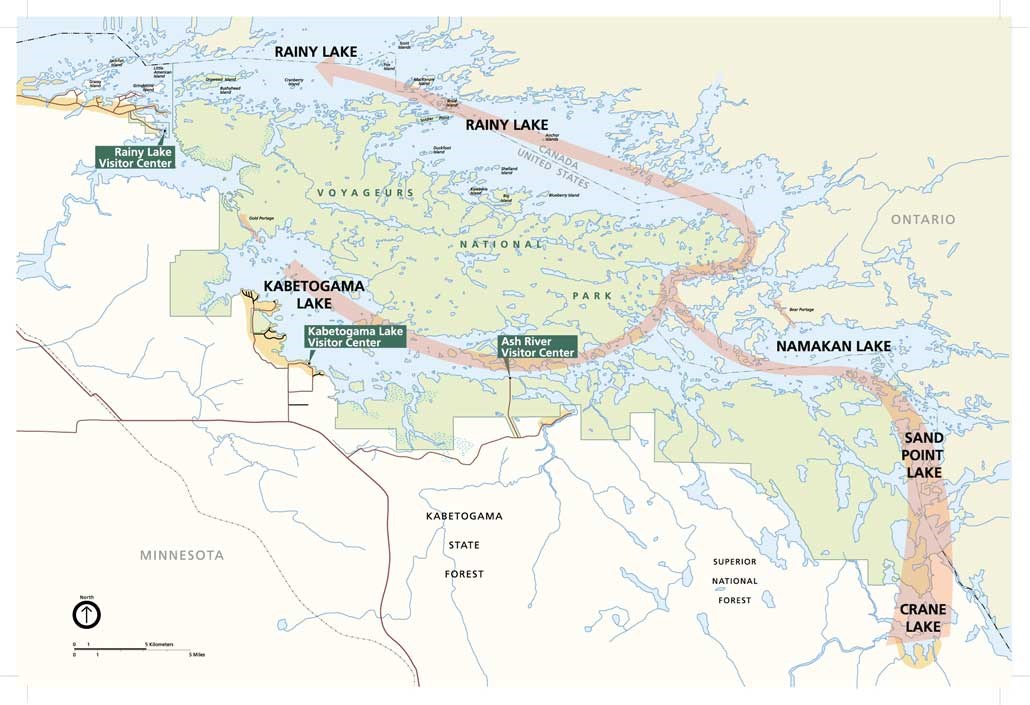 Navigational Routes and Aides
Please review the Lake Navigation Buoy and Marker Reference Guide to familiarize yourself with our lake system.
The U.S. Coast Guard has established and maintains the marked routes within the park. Along these routes, a "safe" channel is marked with Nuns (red conical shaped markers) and Cans (green square shaped markers) and unusual rock hazards (white and orange square shaped markers).
Caution is advised when traveling the waters of Voyageurs National Park. The national park service advises NOT to solely rely on GPS units, carry good navigational charts. Not all rock hazards are marked due to changing water levels.
Navigational maps DO NOT display all rock hazards and not all rock hazards are marked due to changing water levels throughout the season the location of which rocks are a hazard can change.
For an overview of the routes, you can examine the National Geographic Campsite Map on our Maps page. This map is not intended for navigational use rather for identify and locating campsites within the park.

Back to Top
Navigational Management of Voyageurs' Waterways
United States Coast Guard
Buoys can occasionally float off course. Make sure to check your navigational charts and/or GPS units for the correct routes. If a Nun or Can floats off the directed course, usually due to high winds, contact the U.S.C.G. Lamplighters.
USCG: 218-720-5286
Rainy Lake Lamplighter:
Tyson Whitbeck, 218-324-2840
Kabetogama, Namakan, and Sand Point Lakes Lamplighter:
Tom Dougherty, 218-286-5751
National Park Service
The National Park Service does not mark the navigational routes. Please contact the U.S.C.G. for questions regarding navigational buoys, see above numbers.
In the case of low water levels the National Park Service may place extra buoys on the waterways for safe navigation. If you have a question regarding the rock markers, please email the Chief of Visitor Protection or call park headquarters at 218-283-6600.

Back to Top
Purchasing Lake Navigational Maps
At least one good navigational chart/map of the area in which you will be traveling is essential for a safe and enjoyable park experience. DO NOT rely solely on digital devices such as GPS units or cell phones - connections in the park are unreliable.
To purchase maps:
The park carries some navigational maps onsite in the visitor center book stores.
Many local area establishments carry navigational maps.
Back to Top
GPS Navigation
The use of GPS devices to navigate has become increasingly popular. The park has provided a list of GPS sites in GPX format for assistance in locating specific campsites, houseboat sites, day use sites, and visitor destination sites on the waterways. Always bring a good navigation chart/map and know how to read it when on the water. This GPS information is NOT for waterway navigation.

Back to Top
Boating in Canada
If you plan on crossing the international waterways into Canada, know the regulations before you go. Check-out Canadian boating requirements on the Ontario website.

Back to Top
Emergencies
Dial 9-1-1 in Emergencies- Be prepared to give your location as Voyageurs National Park, and your specific lake location or landmarker. Call to report accidents, fires, or life-threatening emergencies. Be aware cell phone coverage can be spotty.

Marine Band Radio- The local sheriff's office, MN DNR, local businesses, and the National Park Service monitor Marine Band Radio Channel 16 in case of emergencies. Keep in mind this channel is monitored by businesses or the NPS during business hours only.

Back to Top
Last updated: April 25, 2018