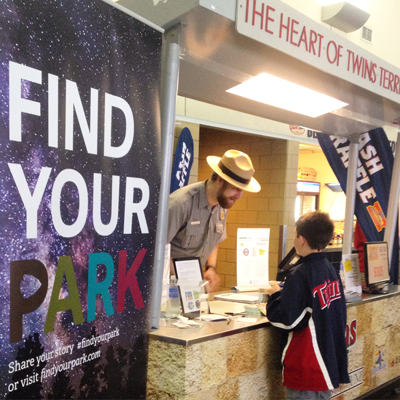 News Release Date:
April 22, 2015
Contact: Christina Hausman, Executive Director, Voyageurs National Park Association, 612-333-5424
America's favorite pastime and best idea: baseball and national parks. 
On April 19th, Minnesota Twins fans and National Park supporters cheered the Twins to a victory over the Cleveland Indians and celebrated Voyageurs National Park's 40th birthday.
Over 65 Voyageurs supporters celebrated in a group section of the US Bank Home Run Porch. $4 per each group ticket was donated back to Voyageurs National Park Association to support the National Park Teen Ambassador program.
Voyageurs National Park was honored during a special pre-game moment with a park ranger on the field and a new video debuted on the scoreboard.
Justin Olson, Interpretive Ranger for Voyageurs National Park, was on hand to help answer questions about Minnesota's largest national park and hand out Junior Ranger books to younger Twins fans.
"I love attending events like this, where many people may not have heard of Voyageurs. It is a great opportunity for me to help a whole new audience find their park," commented Olson.
Voyageurs National Park Association, the park's nonprofit partner, helped organize the event with the Minnesota Twins.
"We are grateful to the Minnesota Twins for this opportunity to celebrate Voyageurs National Park's 40th anniversary. It's important to help promote our amazing national park to new visitors and future environmental stewards of all ages. We can bring our park to new audiences –even at a baseball game," said Christina Hausman, Executive Director of Voyageurs National Park Association.
Voyageurs National Park Association would like to thank their 2015 event sponsors:
Boise Paper
Public Lands Every Day, A National Environmental Education Foundation Program
Fredrikson &Byron, P.A.
International Falls, Rainy Lake and Ranier Convention and Visitors Bureau
Minnesota Twins
Northern Lights Resort &Outfitting
Arrowhead Lodge &Resort
Ash Trail Lodge
BWN Music
The Christensen Group
Coca-Cola Bottling Company, Inc.
Duluth Pack
The Fistler Group
Garland's Inc.
go360media
Kabetogama Lake Association
Lindquist &Vennum LLP
LTD Brewing Co.
Monroe Moxness Berg PA
Pine Tree Cove Resort &Gateway General
Rainy Lake Houseboats
RE/MAX Lake Country
Stewart's Super One Foods
Voyageurs Outfitters
Wherley Motors
ABOUT VOYAGEURS NATIONAL PARK ASSOCIATION
Voyageurs National Park Association's mission is to protect and promote the natural, recreational, and historic resources of Voyageurs National Park. VNPA was created in 1965 to help establish Voyageurs National Park, a water-based national park that celebrates and preserves the treasures of the North Woods and border lakes, stretching 55 miles near the border of Minnesota and Ontario. Voyageurs National Park was officially established April 8, 1975. Since then, VNPA has continued as Voyageurs' leading voice for both protection and promotion of its resources, and as a partner with the National Park Service in empowering park stewards, implementing special projects with financial and volunteer support, and working together to preserve the visitor experience and wild nature of the park for future generations. Learn more at voyageurs.org.