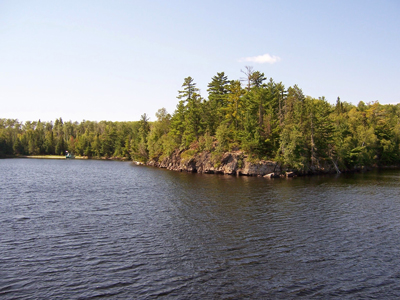 News Release Date:
December 19, 2014
Contact: Tawnya Schoewe, 218-283-6670
INTERNATIONAL FALLS, MN –This week, 61 acres were permanently protected within Voyageurs NationalPark.
The land, located on the Kempton Channel of Rainy Lake, encompasses boreal forest and several hundred feet of sand beach shoreline. The site is on the north side of a 75,000 acre roadless area, the Kabetogama Peninsula, which provides habitat for wolves, black bear, moose, otter and eagles.
The Kempton Channel property is the largest land transfer yet under Voyageurs National Park Association's (VNPA) Land Preservation Initiative, http://voyageurs.org/land-preservation-initiative. Under this innovative program, the park's nonprofit partner works with willing sellers to acquire the remaining private properties within Voyageurs' boundaries for the park. Through the Land Preservation Initiative, VNPA can quickly step in to acquire properties and hold them until the National Park Service completes the ownership transfer to the park. The acquisition of these private lands is one of the highest priorities for Voyageurs National Park, as it furthers goals of restoring developed acreage to a pristine natural state, improving scenic views, and opening additional space for all park visitors to enjoy.
In 2012, Voyageurs National Park Association acquired this critical property before the opportunity for public ownership was lost. This was made possible through the Wallace C. Dayton Voyageurs National Park Legacy Fund − a critical land conservation fund created in partnership with the WM Foundation. It is named in memory of Wallace Dayton, a well-beloved conservationist and outdoor enthusiast who was one of the founders of Voyageurs National Park.
In December 2014, the National Park Service used funding from the Land and Water Conservation Fund to acquire the 61-acre parcel from VNPA, officially adding this scenic place to the park. Photos of the site can be viewed at the following website: https://plus.google.com/photos/114287969932289134902/albums/6093136943205313825
"The white sand beach, the tall pines and jagged rocks, the view –everything about this property is magnificent. I am so glad this is now a place we can all go and enjoy with our families as part of our national park," said executive director, Christina Hausman. "We at Voyageurs National Park Association are grateful to the many people whose efforts made it possible for us to add these 61 acres to the park. We particularly wish to thank our members and contributors to the Wallace C. Dayton Voyageurs National Park Legacy Fund for making this possible, as well as Fredrikson &Byron, P.A. for their pro bono support of land conservation efforts in Voyageurs National Park."
Voyageurs National Park, www.nps.gov/voya, one of the nation's wildest, most remote, and unique national parks, stretches 55 miles along the Minnesota-Ontario border, encompassing 218,055 acres of land and water. Over 900 acres of privately-owned properties remain within the park.
Voyageurs National Park Superintendent Mike Ward commented, "We are very excited to add this important site to the park, which will be enjoyed by visitors for generations to come. We are also grateful to Voyageurs National Park Association for their efforts. Nonprofit partnerships play a key role in the success of innovative programs like this."
ABOUT VOYAGEURS NATIONAL PARK ASSOCIATION
Voyageurs National Park Association's mission is to protect and promote the natural, recreational, and historic resources of Voyageurs National Park. VNPA was created in 1965 to help establish Voyageurs National Park, a water-based national park that celebrates and preserves the treasures of the North Woods and border lakes, stretching 55 miles near the border of Minnesota and Ontario. Voyageurs National Park was officially created in 1975. Since then, VNPA has continued as Voyageurs' leading voice for both protection and promotion of its resources, and as a partner with the National Park Service in empowering park stewards, implementing special projects with financial and volunteer support, and working together to preserve the visitor experience and wild nature of the park for future generations. Learn more at www.voyageurs.org.
About the National Park Service. More than 20,000 National Park Service employees care for America's 401 national parks and work with communities across the nation to help preserve local history and create close-to-home recreational opportunities. Learn more at www.nps.gov.