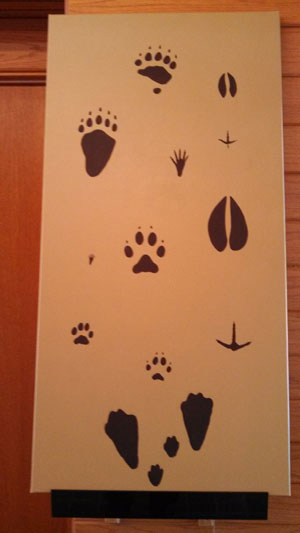 News Release Date:
April 16, 2014
Contact: Tawnya Schoewe, 218-283-6670
INTERNATIONAL FALLS, MN:Voyageurs National Park is pleased to announce the donation of artwork from local artist, Cherie Serrano. The artwork is a large canvas of beautifully painted animal tracks. Each animal track that appears on the canvas can be found within Voyageurs National Park with the exception of the wild turkey track shown only for comparison.
Cherie first got the idea when participating as a parent chaperone on her child's field trip to the park. Much of Cherie's artwork contains nature and landscape scenes, many of which are park-inspired. Cherie worked with park staff to design the painting and together decided it will be used for educational programs.
Park rangers present a variety of programs, ranging from summer interpretive programs to education programs during the school year. "This artwork will be an excellent teaching tool to help students and visitors identify and locate tracks in the park," stated Park Ranger Justin Olson.
The new artwork will be on display at the Rainy Lake Visitor Center during National Park Week, April 20-26.
About the National Park Service. More than 20,000 National Park Service employees care for America's 401 national parks and work with communities across the nation to help preserve local history and create close-to-home recreational opportunities. Learn more at www.nps.gov.