Date:
August 5, 2015
Contact:
Tawnya Schoewe
, 218-283-6670
Contact:
Chris Amidon
, 218-240-4494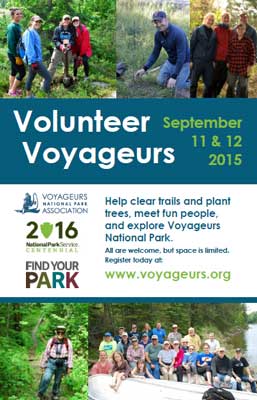 INTERNATIONAL FALLS, MN:Get outside and have some fun with friends.Help clear trails, plant trees, meet fun people, and explore Voyageurs National Park at the annual two-day volunteer event.September 11 and 12, 2015 Voyageurs National Park Association (VNPA) will host a two-day volunteer event in Voyageurs National Park. 
People of all ages and skills are welcome to attend –no experience is necessary. Voyageurs National Park staff will provide you with the tools and training required to make a positive impact on the park. Projects will include trail clearing and planting along the new Rainy Lake Recreation Trail.
Volunteer work will start at 9:00 am and end at 3:00 pm Friday and Saturday with activities in the evenings. "We have several fun activities planned including a boat excursion, appreciation dinner, and a "Ghosts of Voyageurs" candlelight hike. Volunteers are welcome to sign up for one or both days" said Volunteer Coordinator, Chris Amidon.
The event is sponsored by Voyageurs National Park Association (VNPA). Their mission is to protect and promote the natural, recreational, and historic resources of Voyageurs. Learn more at voyageurs.org.
Events will be based out of the Rainy Lake Visitor Center. Space is limited and registration is required. Go to http://voyageurs.org/event/volunteer-voyageurs-2015/ for more information and online registration. Full details and itinerary will be provided upon registration.