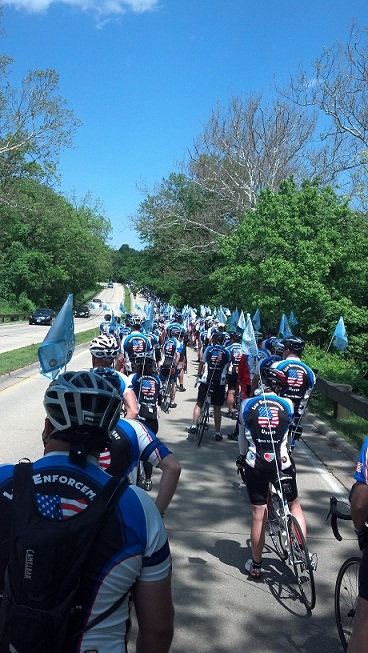 News Release Date:
August 1, 2013
Contact: Tawnya Schoewe, 218-283-6670
Contact: Chuck Remus, 218-283-6650
INTERNATIONAL FALLS, MN: In the spring of 2013, Voyageurs National Park's Ranger/Pilot, Steve Mazur, teamed up with Law Enforcement United, Inc. members on a fundraising bike ride "A Road to Hope" to honor his friend - Park Ranger Margaret Anderson who died in the line of duty on January 1, 2012 in Mount Rainier National Park.
Law Enforcement United first started in 2009 and includes Federal, state and local law enforcement officers, survivors, as well as civilian support members, stretching across the United States of America. Their mission is to honor the service and sacrifice of all law enforcement officers that have died in the line of duty, raise awareness of, and provide monetary support to the survivors of their law enforcement colleagues and family members.
Each May, members meet in Virginia and Pennsylvania to participate in an annual 3-day, 250 mile bicycle trek to Washington, DC's National Law Enforcement Memorial. Law enforcement officers and survivor's nationwide make this arduous journey and at the end of the ride a memorial service to honor those who had fallen takes place.
Ranger Mazur describes the service as an overwhelming big deal! "We saw Eric (Margaret's husband) and his family but were unable to visit with them. They sat Eric and family in the very front row. There were bagpipes playing between row number one and the stage so it must have been very moving for him and his family...they probably felt every note of the pipes in their heart and soul… I think because of the prominent seating arrangements.  His ears must have been ringing all night".
If you would like to participate in the "Road to Hope" bike ride, or help in any other way, go to
www.lawenforcementunited.org. and join the cause.
About the National Park Service. More than 20,000 National Park Service employees care for America's 401 national parks and work with communities across the nation to help preserve local history and create close-to-home recreational opportunities. Learn more at www.nps.gov.