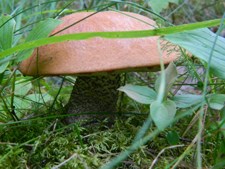 Mushrooms Are Everywhere
After a good rain, colorful caps pop up through the grass.

On dead stumps, orange-red clumps overtake the bark.

Under the leaves, colorful caps push them aside.

On tree trunks, wavy ridges bulge out like shelves.
All of these are the fruiting bodies of mushrooms and fungi. Everywhere we walk or build or garden, mushrooms can be found. Mushrooms thrive in Voyageurs. Mushrooms are everywhere.