State of the Park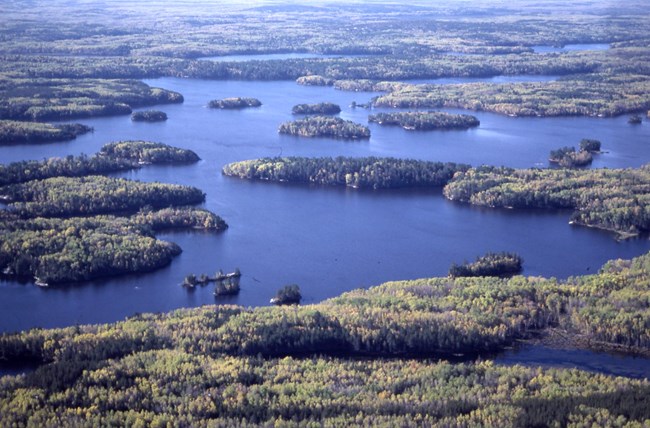 Voyageurs National Park staff have created a variety of documents that share the park's current work and future planning efforts.
Take a look at any one of the links below to find out more about what's happening in the park.
Voyageurs National Park Five-Year Priorities 2018 to 2022 (PDF)
Voyageurs Foundation Document
Voyageurs General Managment Plan
National Park Service Natural Resource Condition Assessment Voyageurs National Park
National Park Service Deferred Maintenance Reports
Crane Like Visitor Center
Community Newsletter
April Community Check-in
Highlights:
We have been watching weather and water levels closely, in cooperation with other area agencies, for the potential of flooding. Thankfully, with the snow melt and spring precipitation the potential for flooding seems averted.

The Frozen Lake Plan preliminary proposal comment period is open until June 3.
April Community Check-in


March Community Check-in
Highlights: 
As the 2023 winter season wraps up, we are pleased to report it was a successful month with multiple park users. The final winter Dark Sky full moon hike was held with 29 participants. Both the Kab-Ash and Rainy Lake Ice Roads have closed for the season and with the amazing display of northern lights in March, the ice roads saw a lot of activity. Snowmobile trail stakes will be pulled this week thus trails will be closed due to the warming temperatures. The Maintenance Team was awarded the 2022 Maintenance Facility Team of the Year Award for the Midwest Region.

March Community Check-in
January / February Community Check-in
January/Feburary Newsletter

Park Superintendent Updates
We are working on making improvements to the monthly park newsletter in the coming issues and will be continuing to use the monthly newsletter to keep our community in the loop on all things Voyageurs.  
Laura Bellasalma was selected as the new Supervisory Facility Operations Specialist Lead and will start in May. Laura is coming from Crater Lake National Park in Oregon. She is currently a student in the National Park Service's (NPS) Facility Managers Leadership Program (FMLP), graduating in April. 
Highlights:
Visitor and Resource Protection Team created a joint partnership with the Polar Polers Ski Club and a 3-day ski event was co-hosted on February 24 - 26 where more than 100 people participated. Mark your calendars for February 2024.
The Interpetation, Education, and Reservation team collaborated with six agencies / partners to bring the first annual winter Boreal Stargazing Week to Minnesota. It was held February 19 - 24. More than 19,000 students engaged across the country for a live event on the Rainy Lake Ice Road. Also included were multiple evening snowshoe hikes, an evening ski event, a film showing in the Twin Cities, and a Winter Stargazing Event on Ice. The team is identifying ways to improve next year's event so mark your calendars for February 2024. 
Aerial moose surveys were conducted this month with the assistance of the United States Forest Service and Isle Royal National Park.   
Last updated: May 16, 2023