Safety
In case of Emergency DIAL 911
From Cell Phone DIAL (340) 776-9110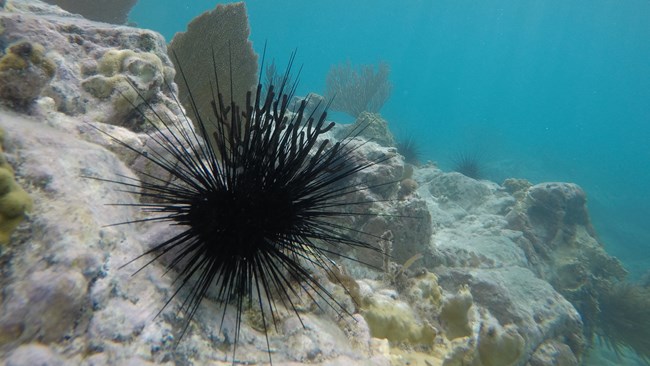 There is so much to see and do in Virgin Islands National Park both on land and in park waters, and we want you to have the best experience possible. This page is here to inform visitors of potential hazards they might encounter in the park.

Despite the fact that we don't have dangerous animals like lions, bears, alligators or snakes in our park, there are a few things that you should be aware of including poisonous plants, hazardous marine life, and potentially dangerous roads.
The following tips are here to help you have a safe and enjoyable visit.
Do not leave valuables unattended.
Valuables have been stolen from several vehicles in the park. These incidents could happen anywhere on the island, so please take valuables with you or leave them at home or in your room. If you see someone acting suspiciously, call us at 1-866-995-8467.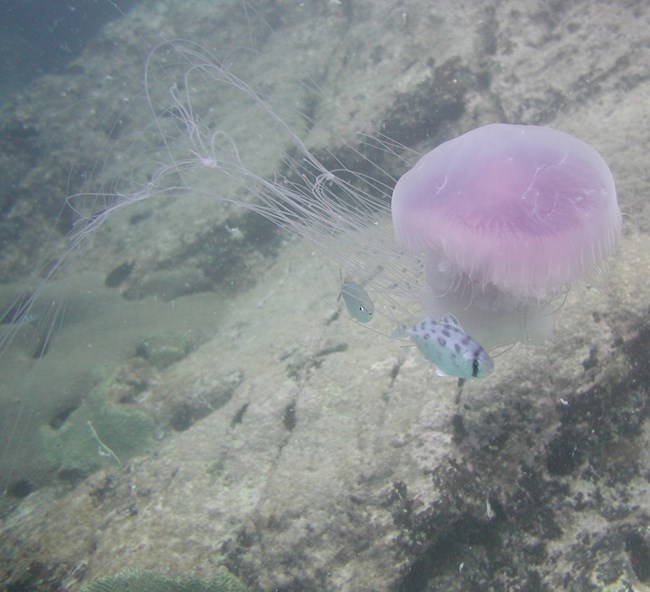 In The Water
When enjoying the waters of the park, please look, but don't touch. If you need to rest while snorkeling, stand only on sandy surfaces. Always remember to use reef-safe sunscreens, which are free of oxybenzone, octinoxate, and octocrylene.
Marine life such as corals, sponges, and sea stars are fragile. Some have sharp edges that can cut, while others may sting or bite if you touch or disturb them. Sea urchins have long, brittle spines that will puncture skin and break off in our bodies, causing painful injuries. During the summer months, stinging jellyfish such as the one pictured to the left are common in the waters of the park.
When enjoying the waters of Virgin Islands National Park, please remain vigilant to avoid contact with all forms of marine life. Visit our
things to avoid
page for more information.

Flag or Surf Conditions
Red Flag Conditions mean there are extremely hazardous ocean conditions with large powerful waves and strong rip currents.
During Red Flag Conditions in Virgin Islands National Park the concessioners' operational hours and visitor services will change to the following schedule:
Water Sports Equipment Rentals at Trunk Bay and Cinnamon Bay Beach will not be available.
Trunk Bay Bar and Beach Shop - Will open on a reduced schedule from 10:00 a.m. to 4:00 p.m. (minimum hours)
Trunk Bay Snack Shack - Will open on a reduced schedule from 10:00 a.m. to 2:00 p.m. (minimum hours) to accommodate any visitors going to Trunk for lunch.

Yellow Flag Conditions mean there are moderate ocean hazards with frequent large waves and possible rip currents.

Green Flag Conditions mean there are minimum ocean hazards.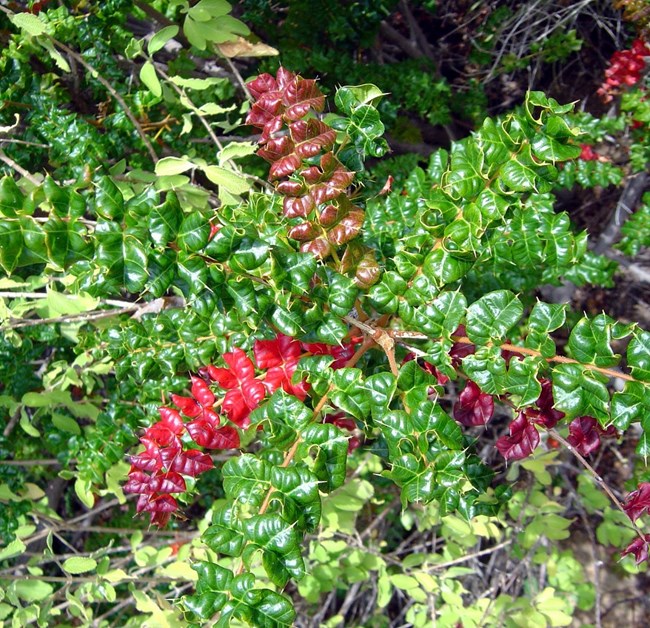 On the Trail
Stay on the trails and avoid contact with plants whenever possible.
Christmas bush is very common throughout the park and contains urishiol, similar to poision ivy. Contact with this plant causes burning, itching rashes and lesions that can spread if untreated.
Manchineal trees are extremely toxic. Known as the "death apple tree", all tissues of these plants are hazardous to humans. Take great care to avoid these plants, which grow near the shorelines including the beaches.
Cacti are prevelant throughout the park in all areas aside from the highest elevations. Some species grow low to the ground and will break off if hikers brush up against them.
For more information, visit our page on
Plants & Trees to Avoid
.
On the Ground
1. Drive on the LEFT!
2.
Do not leave valuables unattended
.
3.
Do not climb, sit, or stand on walls of historic ruins
. You will cause damage to these historic structures. The walls are unstable and bodily injuries may occur.
4.
Do not touch the petroglyphs
.
5.
Bring plenty of water when hiking
.
6.
Use bug spray and reef-safe sunscreen
.
7.
Do not eat unknown fruits or touch unknown plants
.
8.
Stay on the designated trail.


Last updated: September 15, 2022