Mosquito-Borne Diseases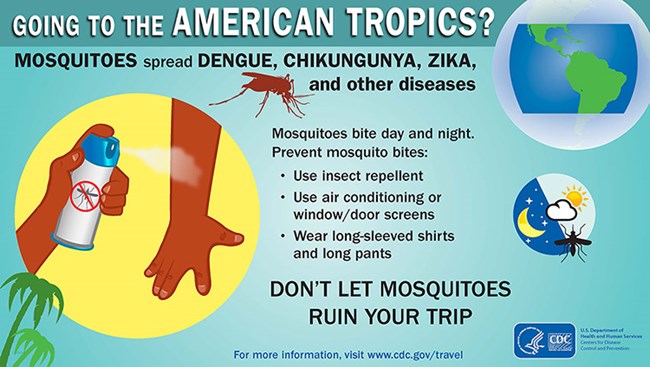 Mosquito Poster by CMC
Mosquito-borne diseases are spread during the rainy season or after heavy rains when mosquitoes are most prevalent. Outbreaks of Dengue Fever and Chikungunya Fever have occurred in the U.S. Virgin Islands in past years. Zika Virus has been documented in nearby Puerto Rico and on the island of St. Croix in the U.S. Virgin Islands. Symptoms and prevention of these diseases are similar. Check the Centers for Disease Control links below for information on the potential health risks of these diseases.
Symptoms can include:
Rash

High fever

Muscle pain

Headache

Joint swelling and pain

Nausea/vomiting
Prevention and Precautions:
For more information read the
National Park Service article on Zika,
or visit
Centers for Disease Control sites for information on
mosquito-borne diseases.
Last updated: March 21, 2017