News Release
Nigel Fields Named Superintendent of National Park Service Sites in U.S. Virgin Islands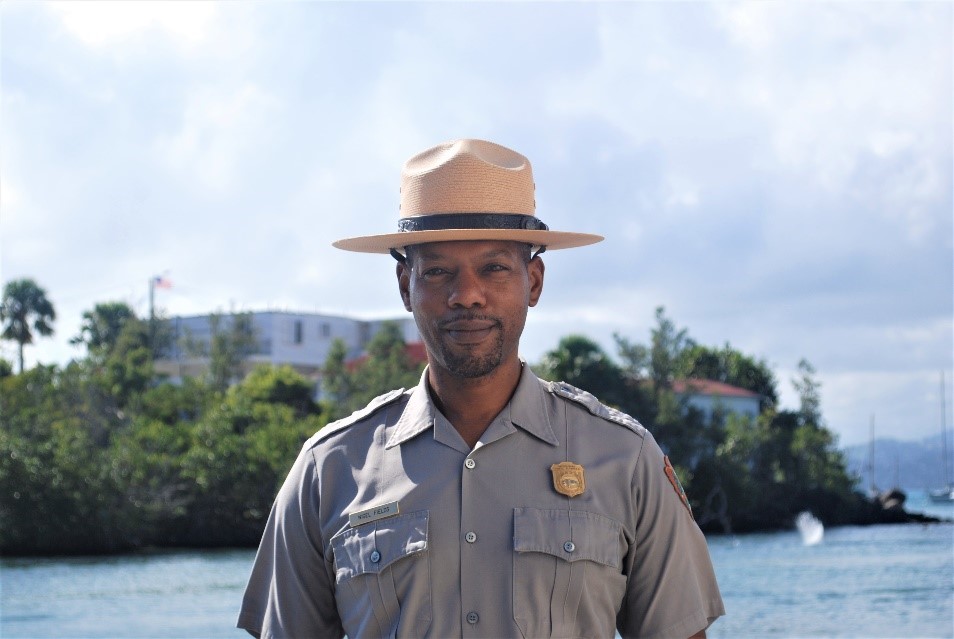 News Release Date:
January 27, 2020
Contact: Saudia Muwwakkil, 404-507-5612
Contact: Dave Worthington, 435-491-0579
ATLANTA - The National Park Service (NPS) South Atlantic-Gulf Regional Director Robert A. Vogel today announced the selection of Nigel A. Fields as superintendent of Virgin Islands National Park and Virgin Islands Coral Reef National Monument, effective February 16.  Fields has served as the acting superintendent of both park units since December 2018.  

"Nigel has demonstrated acumen in science-based decision making, meaningful community engagement and strategic thinking necessary to help shape a positive future for the park and St. John," said Vogel. "I am confident in his ability to promote smarter, more sustainable development as the park and community continue to heal from the devastating 2017 hurricane season."

During his year-long assignment as acting superintendent in the U.S. Virgin Islands, Fields:
Led recovery efforts totaling more than $40 million in sustainability-focused design and construction projects following the devastating impacts of Hurricanes Irma and Maria; 

Successfully pushed for the reopening of concessions services and fee collection at Trunk Bay, recognized as one of the world's most beloved beaches;

Led the development of a renewed philanthropic partnership with the Friends of Virgin Islands National Park, which has pledged over $1M in funding and programmatic support for 2020; and 

With an emphasis on safety and resource protection, collaborated with multiple law enforcement agencies within the Caribbean High Intensity Drug Trafficking Area on successfully thwarting multiple illegal immigration and smuggling attempts on St. John. 

"I grew up swimming, fishing, hunting, farming, hiking, canoeing, camping and otherwise wandering the beaches, estuaries and pine savannahs of the Gulf Coast," Fields said. "The deep connection of Virgin Islanders to their stunning landscape drew me to St. John and it now feels like home. This is a time like no other to rebuild park facilities and reinvigorate visitor connections to a rich cultural experience reflective of the diversity and history of the islands."

Since transitioning to the National Park Service eight years ago, Fields has served as the chief of resource education at Great Smoky Mountains National Park in Tennessee and as chief of interpretation for New Orleans Jazz National Historical Park and Jean Lafitte National Historical Park and Preserve in Louisiana. During that time, he completed temporary assignments as deputy associate director for interpretation, education and volunteers with the agency's Washington 
Support Office and as assistant regional director for communications and congressional affairs in Atlanta. Fields also participated in multi-park special events, including the Selma to Montgomery Commemorative "Walking Classroom," NPS Centennial programs in Chicago and the nation's capital and facilitated NPS Academy experiential learning programs in Tennessee and New York. 

Before joining the National Park Service in 2011, Fields spent 15 years as an environmental health scientist with the Environmental Protection Agency, including serving as the regional science program director with the Office of Research and Development. At EPA, Fields promoted community-based science solutions that protect children and vulnerable populations from threatening toxics in their air, food and water.  

Fields holds a bachelor's degree in ecology, evolution and organismal biology from Tulane University and received a Master of Science in environmental health sciences from the Tulane School of Public Health and Tropical Medicine. 
 
Last updated: January 27, 2020