Do Business With Us
Commercial Use Authorization Holders
Please contact the park if you would like a renewal package.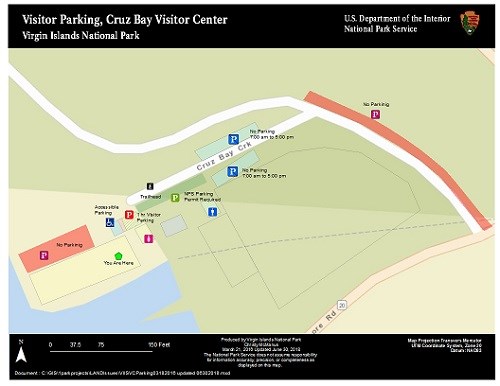 Visitor Center Parking Information
Letter to Commercial Use Authorization Holders
CUA operators and their patrons are not allowed to park at the NPS Visitor Center in the spaces designated as "Parking Permit Required".
1 Hour Parking
Reserved for park users visiting the headquarters, or use of playground.
Parking Permit Required
Reserved for park users that plan to hike one of the park trails accessible from Cruz Bay, walk to one of the beaches, attend a Ranger led program, or utilize the NPS playground and ballfield area only.
Employee Parking & Public Spaces
These can be used by visitors from 5:00 pm until 7:00 am. Parking in these spaces between 7:00 am and 5:00 pm can result in being ticketed and towed.
Conducting Business in the Park
Commercial Services within Virgin Islands National Park is managed through the Concessions Office. Anyone wishing to embark on a business venture within the boundary of the Park is encouraged to contact that Office for an explanation of the requirements. You may contact the Park's Concession Office by calling (340) 776-6201, ext. 221 or ext. 224. One may also visit and/or download a copy of the Park's Commercial Service Plan if contemplating a commercial venture within the Park.
Commercial Use Authorizations
The majority of the commercial activities authorized by the Commercial Services Plan begin and terminate outside the park and are subject to commercial use authorization (CUA). The CUA is a mechanism to authorize and monitor those commercial uses and activities for which concession contracts are not appropriate. Key aspects of the CUA process at VINP include:
Permits are issued on a calendar year basis, beginning January 1 and ending December31st. Partial year authorizations are not generally available.

Each commercial use of park land or waters requires an individual CUA. Business operating more than one service must obtain a permit for each commercial activity.

To provide for a market competition, a limitation of three CUAs per business is established.

Pursuant to the Cost Recovery Act (16 USC 3a) and NPS policy, all CUAs are subject to a fee based upon recovery of NPS application, administration and monitoring costs. Click below to access Commercial Use Authorization documents:
Last updated: December 6, 2019