Hiking and Walking Trails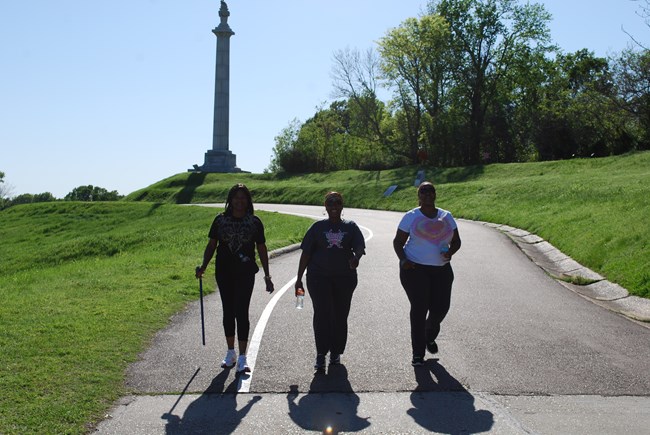 VIcksburg National Military Park offers some of the best walking and hiking areas in eastern Mississippi. There are many options for scenic hikes and walks, as well as options for running, riding bicycles, walking your pets, and even pushing a stroller! Entrance fees still apply to pedesterians, and must be paid when entering the park.
Tour Road Options:
Many community members and visitors will choose to walk, run, or bicycle portions of the tour road. The Tour Road offers up to a 16 miles pedesterian experience, and allows for pedesterians to create walking loops that range in length from 3 miles to 16 miles. The tour road features a "walkers lane" on the left side of the road as a dedicated lane for non-motorized transportation.
Best of all, the Tour Road is open to pedesterians from sunrise to sunset. The road is only open to vehicles from 8am-5pm, leaving plenty of time in the morning and afternoon for a vehicle-free experience.
This is a great option for anyone looking for a little exercise, or looking to explore the park from a different perspective. All of the important features and monuments on the battlefield can be viewed while walking
Pets and strollers are welcome on the tour road. Pets must be kept on a 6 ft or less leash at all times, and owners must pick up after their pets. Restrooms are available at the visitor center from 8am-6pm, and water is available all day in the parking lot.
Come on out and get some exercise in one of the most beautiful park's in Mississippi!
Learn more about the annual Run Thru History, a 10k and 5k family race through the military park!
Wilderness Hiking
The Al Scheller Hiking Trail follows a more physically demanding route through the interior sections of the park, and gives the hiker an excellent perception of the obstacles and difficult terrain faced by the soldiers during the siege of Vicksburg. While a majority of the trail is maintained and well-marked, those seeking to hike the whole trail should have basic orienteering skills.
The Al Scheller Primitive Hiking trail was originally established in 1979-1980, for the purpose of training Boy Scouts in the use of compasses and orienteering methods, while also learning the history of the park and its terrain as they trekked through the woods. All maintenance of the hiking trail is performed by volunteeers. If you are interested in helping out, or if your organization wants to adpot a section of the trail, please contact the
volunteer coordinator.
More in-depth information on the Al Scheller Hiking Trail is available at the visitor center desk. Be sure to ask for a
Vicksburg Trails Orientaton Booklet,
and learn about the awards to can earn through our partner, the Vicksburg Trails Commission.
Last updated: December 17, 2020