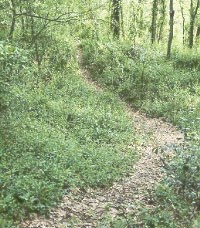 After you arrive at Vicksburg National Military Park, register your group at the Visitor Center (hours are 8:00 a.m. to 5:00 p.m. every day). All members of the group must view the orientation film shown in the Visitor Center prior to starting the hike. The film shows every 30 minutes, on the hour and half-hour. Ensure that adequate provision has been made to supply water to all hikers, particularly in hot weather. It is not unusual for a hiker to consume a gallon of water while hiking the Scout trails in hot weather. Water is available only at the Visitor Center at the start of the trail, and at the USS Cairo Museum, midway through the hike.
A compass and the trail guide (available on this site) are necessary to complete this hike! Be sure that each member of the unit is properly trained in the use of a compass prior to beginning. The time needed to hike the Scout trail varies with the group; however, most finish in about eight (8) hours, not counting lunch. The trail is a 12.5-mile loop beginning and ending at the Visitor Center. Plan to arrive back at the Visitor Center before dark, whether finished with the hike or not.
The Al Scheller Trail is physically demanding. Only those in good physical condition should attempt this hike. In the event of a problem, notify a passing park ranger or contact personnel at the Visitor Center (601-636-0583) or USS Cairo Museum (601-636-2199).
You will see many earthen fortifications on your tour and hike. There are three principal types:
REDAN
- triangular in shape, with one point facing the enemy
REDOUBT
- square-shaped and generally larger than a redan
LUNETTE
- crescent or semi-circular shaped
Through experience, the Confederates found the earth must be at least sixteen (16) feet thick at the top of a fortification to withstand artillery fire. The bases were usually about twenty-six (26) feet thick.
The route of the hike is marked on the map of the park. Important monuments, mileposts, and geographical features are shown on the map for orientation purposes only. You may wish to keep track of your progress or time by marking the map as you pass each feature.