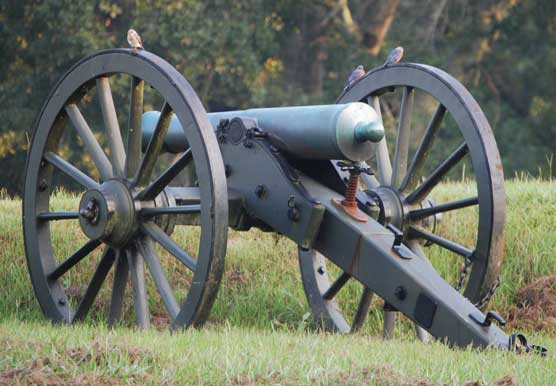 News Release Date:
December 5, 2012
Contact: Virginia DuBowy, 601-619-2911
National Park Service personnel will conduct the annual Christmas Bird Count in Vicksburg National Military Park (VNMP) on Sunday, December 16.
The VNMP count is part of the larger Vicksburg Christmas Bird count (covering sites in both Mississippi and Louisiana) which is one of over 2,000 Audubon Christmas Bird Counts to be conducted between December 14, 2012 and January 5, 2013. Data are collected from these designated areas called 'count circles,' which are 15-mile diameter sites that stay the same year to year. Information gathered is entered after the count, becoming available to query under the Data & Research link on Audubon's website. The longest running Citizen Science survey in the world, Christmas Bird Counts provide critical data on avian population trends; this will be the 113th year that Audubon Christmas Bird Counts have taken place and the sixth time VNMP will be surveyed as a separate unit. To date, 62 species have been observed in the park during the Christmas count.
VNMP biologists use bird count data from the park to help assess wildlife management plans and conservation programs. Grassland songbird populations have shown greater population declines than any other group of birds as a result of intensified agricultural practices and conversion of native grasslands to agriculture. Data from the past few years' counts have documented distinct responses by open-habitat birds to the recent battlefield restoration project on both the North and South Loops.
Surveyed populations of several species, notably Eastern Bluebirds, American Robins, Song Sparrows, and Dark-eyed Juncos, have significantly increased during winter in the park, presumably as a response to the creation of additional open habitat which those species prefer.

Other breeding and winter species - including Northern Harriers, American Kestrels, Killdeer, Northern Flickers, Eastern Kingbirds, Horned Larks, Eastern Meadowlarks, Loggerhead Shrikes, Indigo and Painted Buntings - have also been observed using the newly-created open areas.
Together with the numbers collected from the Christmas Bird Count, data acquired through current projects being conducted by researchers to monitor breeding and winter bird populations at VNMP will allow the park to assess whether current management practices can sustain viable songbird populations, and will provide needed information to park managers to aid in developing future habitat management strategies.
For more information on Nature and Science at Vicksburg National Military Park, go to https://www.nps.gov/vick/naturescience/index.htm.