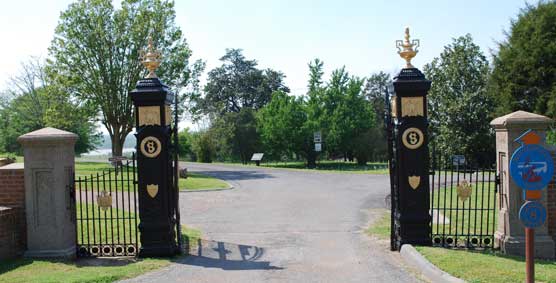 News Release Date:
February 14, 2012
Contact: Michael Madell, Superintendent, 601-619-2902
VICKSBURG, Miss. - The National Park Service today announced the final results of an 18-month study of unmarked and unrecorded burials in Vicksburg National Cemetery. Research performed by Vicksburg National Military Park staff and archeologists from the Southeast Archeological Center identified a total of 13 previously unknown graves. The interments are located in newer sections of the cemetery that, according to records, were opened beginning in the 1940s, and used to bury veterans of World War II and later, the Korean War.
"Though we are relieved to now know the results of our research," said Vicksburg National Military Park Superintendent Michael Madell, "we also are very sad to learn that 13 individuals have had to rest in anonymity for several decades. These souls, be they veterans or spouses of veterans, deserve more respect and recognition. We apologize to them and to their families."
In August 2010, as cemetery workers were preparing a grave site for the burial of a World War II veteran, they discovered the site they were preparing was occupied by a casket.There was no headstone, nor record of interment in the space.An adjacent grave site, also believed to be empty, was also found to be occupied by a casket.It, too, was unmarked and unrecorded.Those graves were immediately closed without disturbing the remains, and the veteran was buried in another plot.
Shortly after the two unmarked graves were discovered, NPS officials asked for assistance from the U.S. Army Corps of Engineers to examine additional sites within the newer sections of the cemetery to determine if there were other potential unknown burials.In December 2010, ground-penetrating radar (GPR) devices were used to scan portions of these sections and detected what appeared to be a significant number of unmarked graves.Soon after, NPS workers physically probed some of the suspected sites with metal rods.In several cases the probes made contact with solid objects beneath the surface, appearing to confirm the GPR's findings.
In January 2011, Madell requested assistance from the NPS Southeast Archeological Center to further investigate the anomalies. Professional archeologists from SEAC conducted field research in the cemetery in January, May, and June of 2011. The team utilized more extensive GPR and probe testing, and also used shallow mechanical scraping to get a more precise picture of subsurface features.

Mechanical scraping involved using a backhoe to create a shallow excavation approximately 62 centimeters wide, averaging 30 centimeters deep, and of varying length. The scraping technique proved effective, allowing the archeologists to differentiate between false readings created by soil conditions, rocks, and other subsurface debris, and that of the actual grave shafts. Madell stressed that the scraping was not deep enough to disturb interments.
When information collected through the field investigation was analyzed, archeologists were able to verify, with a high degree of probability, the existence of eleven previously unknown graves (in addition to the two unmarked and unrecorded graves discovered in August 2010).
Madell further explained that NPS staff also conducted a comprehensive review of archives and records in an attempt to identify the individuals who were buried in the unmarked graves. He noted that NPS staff searched or coordinated with others to search records from local funeral homes, the Mississippi Department of Archives and History, the Department of Veterans Affairs, and National Archives facilities in both Washington, DC, and the Atlanta area, all without success. "My staff and I searched all files and storage facilities located in the park without finding pertinent information," Madell said. "Regrettably, we must conclude that there are no records to indicate the names of the 13 souls who rest in these unmarked graves."
Madell noted that the records search did result in the discovery of the names of approximately 130 spouses of veterans who had been properly recorded in files and buried next to their loved one, but whose names were never inscribed on the headstones. The National Park Service is working with the Department of Veterans Affairs to arrange for the names of those spouses to be added to the headstones. The VA also will be providing a headstone inscribed with 'unknown' for each of the 13 unmarked and unrecorded graves that were discovered.
The NPS intends to collaborate with local veterans groups to honor the 13 unknown individuals as part of this year's Memorial Day ceremonies.
Vicksburg National Cemetery was established in 1866, with the first burials occurring in 1867. The cemetery was closed for interments in 1961, with exceptions made for those veterans or descendants of veterans who had previously "reserved" a gravesite.

NOTE: A complete copy of the report on archeological investigations can be found at:

www.nps.gov/vick/parkmgmt/upload/VICK-Cemetery-Investigations-Final-Report.pdf