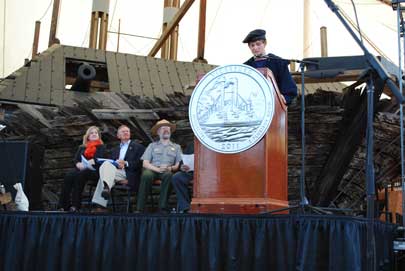 News Release Date:
August 31, 2011
Contact: Tim Kavanaugh, 601-619-2908
On Tuesday morning, August 30, 2011, The United States Mint released the Mississippi "America the Beautiful®" Quarter at Vicksburg National Military Park, with over 2,500 spectators and participants present to celebrate the occasion.

The Vicksburg coin, to be distributed nationally, features the U.S.S. Cairo on its reverse, and is the ninth coin released in this series dedicated to America's most scenic and historic places. Vicksburg was chosen by the Mississippi Legislature to represent the state, and the image of the U.S.S. Cairo was approved by the Secretary of the Treasury. Depiction of this historic icon on the quarter emphasizes the crucial importance of control of the Mississippi River to both the Union and the Confederacy during the American Civil War, the contributions of the U.S. Navy in the Vicksburg Campaign, and Vicksburg's role as the ultimate turning point of the war. The U.S.S. Cairo, a U.S. Navy (Union) ironclad river gunboat, was sunk by Confederates in the Yazoo River north of Vicksburg on December 12, 1862. She was raised on December 12, 1964 and is on permanent display, along with all artifacts salvaged, at Vicksburg National Military Park. The coin release took place under the bow of this historic vessel.

Noted Mississippi television personality Walt Grayson served as emcee, and remarks were made by park Superintendent Michael Madell; Sarah McCullough, Cultural Heritage Program Manager for the Mississippi Development Authority, Division of Tourism; and Fred "Al" Runnels, Chief of Staff, United States Mint. Runnels commented that he was pleased to be home in his native state, and delighted to see the number of schoolchildren on hand - the most he had ever seen at a coin release.

In addition to almost 2,000 elementary students from area schools, music was provided by the Utica Jubilee Singers of Hinds Community College, the National Anthem sung by the Vicksburg-Warren Central High School Chorus, the Pledge of Allegiance led by Girl Scout Troop #5107, and the colors presented by the Warren Central High School Navy Jr. ROTC.

Dressed in the dark-blue wool uniform of a Union Navy seaman, fifteen-year-old Sam Andrews, a park VIP, read a portion of the diary of George Yost describing the sinking of the U.S.S. Cairo. Yost was also fifteen years of age when he served aboard the ship. After the ceremony, everyone under the age of 18 received a new Vicksburg Quarter and keepsake case from the Mint. Their presence gave the festivities a youthful exuberance.

Vicksburg park staff was assisted by fellow NPS rangers from Natchez Trace Parkway and Natchez National Historic Park, as well as the Vicksburg Police Department and Warren County Sheriff's Office, park VIPs and a number of local organizations and businesses.