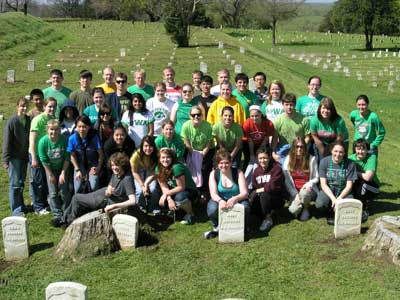 News Release Date:
March 19, 2009
Contact: Elizabeth Roberts-Hamel, 601-636-0583
On Tuesday March 17 (St. Patrick's Day), more than 40 students from the University of Iowa participated in a volunteer clean-up effort at Vicksburg National Cemetery. The students were on a Pay It Forward Tour organized by Students Today Leaders Forever, a non-profit group dedicated to leadership and community service.
The students were tasked with cleaning the headstones of some of the many unknown soldiers laid to rest in Vicksburg National Cemetery. Using small brushes and an environmentally friendly cleaning solution, they gently removed decades of dirt and plant matter, restoring the stones to their original, gleaming white appearance. Their duty sparked many questions about the cemetery, the park, and the causes and effects of the Civil War.
This coordinated effort involved participation by the park's interpretive, resource management and facilities staffs.