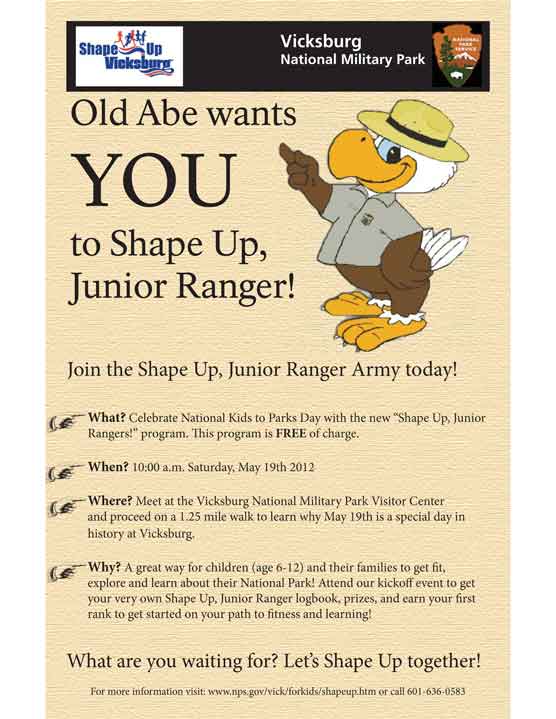 News Release Date:
May 11, 2012
Contact: Melissa Perez, 601-636-8715
In celebration of National Kids to Parks Week, Vicksburg National Military Park, in partnership with Shape Up Vicksburg, will kick off its new "Shape Up, Junior Ranger!" program at 10:00 a.m. on May 19, 2012 at the Vicksburg National Military Park Visitor Center. Participants will meet in front of the Visitor Center where they will proceed on a 1.25 mile walk and learn why May 19th is such an important day in the history of Vicksburg.

As part of First Lady Michelle Obama's "Let Move Outside!" initiative, the "Shape Up, Junior Ranger!" program is a fun way for children (ages 6-12) and their families to get fit, explore and learn about their National Park and community! Participants at our kickoff event will receive their very own "Shape Up, Junior Ranger!" logbook, prizes and earn their first logbook stamp and rank to get started on their path to fitness! Starting a fitness program is a lifestyle change that is best supported when the whole family is involved. To encourage families to get out and get healthy together, each Junior Ranger enrolled in this program may present their Shape Up, Junior Ranger logbook at the park entrance station to waive the fee for themselves and their chaperone.

What are you waiting for? Let's Shape Up together!

www.nps.gov/vick/forkids/shapeup.htm

The "Shape Up, Junior Ranger!" project was made possible by a grant from the National Park Foundation through the generous support of ARAMARK through the Yawkey Foundation, the Fernandez Pave the Way Foundation and the History Channel.